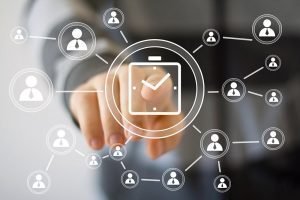 All utilities use rosters – and they come in many types for different reasons. One of the most important is for the exchange of crew information during a storm or emergency. 
The main divergent in rosters is formatting, and the device of record used. Some utilities use the common roster, a roster that was developed to standardize the process. Others use a roster of their own design that was created over time. Contractors developed rosters that were focused on their business practices and fast payment. And while some utilities digitize and streamline their roster efficiency with ARCOS, others still rely on whiteboards, spreadsheets and paper. 
When considering a roster for the exchange of personnel information, comparing the variances between roster systems is a valuable exercise and can help evaluate how mutual assistance will be rolled out in any type of situation a utility can encounter.
History of the Common Roster
The escalation of weather-related emergency response situations like Hurricane Katrina placed utilities in a state of confusion. Although rosters had been in use by utilities and contract companies for years, each had their own roster template which made launching mutual aid complicated and restricted communication between organizations. This made full situational awareness almost impossible to achieve. ARCOS automation aided response time but the efficient filling and dispatch of restoration crews started to become a logistical nightmare. Utilities knew they needed a rostering change to ensure the safety of their lineman and contractors and increase the exchange of information so restoration times could be reduced.
In 2015, the Southeast Electric Exchange formed a subcommittee to address the problem. Representatives from over 10 individual utilities were put to the task of defining a common roster that all member utilities could adopt. The common roster had to be simple and in a standardized format that could cover the SEE's required mutual assistance resource information data.  
The process was to be intuitive-
     

IOUs and contractors fill out the information in the standard template and send it along to other IOUs when mutual assist is required.

     

Each IOU would create and maintain a translation program to reassemble resource information into their format.

     

Resource information would then be automatically loaded into the IOU's particular system.
The SEE subcommittee's initiative was successful and they were able to socialize the common format with other RMAGs and secure acceptance among member utilities. While common rosters are proving to be a good alternative to the way things have always been done, they aren't the whole answer.
Internal Rostering
While the common roster has its place, many utilities use their own homemade internal rosters. What has been tried, tested and deemed true is something they just don't want to get away from – and who can blame them when a Hurricane like Florence slammed into the east coast? What works, works. However in this kind of system; integration of rosters from one individual organization into another can still be a problem, especially when the mutual assistance call goes out to a neighboring utility or contractor group who has their own way of doing things. If each partner is using a completely different roster system – common, homegrown or something else, restoration efforts can suffer. Mix in a reliance on spreadsheets, whiteboards and paper and a utility can only operate so far without starting to make mistakes, duplicating efforts, or losing vital situational information. 
When you are in the pressure of a restoration, you have to be nimble enough to adapt and adopt to the real-world scenario of accepting a non-standard roster to get crews out.    
So, which Roster is Best?
If you are an innovative utility, the choosing of a roster type is not an easy one to make. Staying flexible is key. Keeping what you have is a great option but when the template of a common roster that can be easily translated and transferred to anyone in your restoration or daily operation group is used, it can be a tough thing to argue against.
ARCOS says, "why waste time arguing"?
Our solutions work with any format of roster and we can even mix the two discussed above. ARCOS Resource Assist can bridge the gap between utilities and contractors so you can have instant clarity on which resources are available. It also delivers seamless integration with the ARCOS platform so every aspect of your responses can be managed in the same way effectively reducing the amount of manual work and data re-entry experienced in your current processes. Utilities can cut response time, speed up restoration and increase efficiency when requesting outside resources.
Find out more and request a demo or learn more about our latest innovations here.