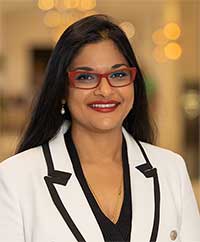 EMPOWER is ARCOS's annual user conference where we bring together our customers to network, learn, and excel in their use of ARCOS solutions for field mobility and resource management. In this blog series, Aisha Ghuman, ARCOS CMO, explores the different aspects of what makes EMPOWER so special and beloved among those who attend.
The utility industry is unique in the way companies collaborate, not compete. That is extremely apparent in how the agenda is set for the annual EMPOWER Conference. While ARCOS hosts the event and aids in the planning, it's our customers themselves that shape the agenda and decide what should be covered. Many of the presentations and sessions are conducted by users directly. This is important because these people are on the ground and in the trenches, with hands-on experience knowing how to get the most out of our solutions. They can show you how to do the same.
Leading the conference planning is the Steering Committee. This is a group of about a dozen power users, experts in their fields, who generously take the time to tell us what you need to know and how to communicate that. They meet several times in the months leading up to the conference, both in-person and virtually, to choose the topics and learning paths that will make up the agenda. They shepherd EMPOWER so that it will serve your needs and be valuable to you, sharing their wisdom and experience.
Who's On the Steering Committee?
This year's Steering Committee is fronted by chairperson Stephanie Morman, Manager of Work Management Systems at First Energy. Her colleagues' titles range from Project Manager to Technical Consultant to Senior Emergency Response Advisor to Supervisor, and even a VP of Strategy and Performance Management. They hail from companies big and small, including Tampa Electric, American Electric Power, Con Edison, Avangrid, Duke Energy, and Connexus. They are eleven individuals with eleven different titles coming from eleven different organizations.
As you might imagine, this makeup of people brings a broad range of viewpoints to the table. In this way, we strive to find a mix of participants from across the breadth of our user base, so that everyone's interests and needs are addressed. We're always keeping an eye out for future Steering Committee members for future gatherings.
Setting an Agenda
There are many solutions on the ARCOS platform, and not every company currently uses all of them. These differences are reflected in the Steering Committee, as well. Some of the group champion newer products they've fallen in love with, while others possess great depth of knowledge on the more classic modules. Some participants bring both to the table. All of this is reflected as the agenda is built, so new and veteran users alike will get a return on their registration, time, and travel investment.
It's amazing how many commonalities are shared, no matter the size or location of each organization. There are differences, too, of course. But the mission and drive are the same. Over and over again, we watch with respect and amazement as these individuals unite to provide an unforgettable and valuable experience for attendees.
In the next blog, we'll go deeper into this year's agenda. It's another exciting one! But for now, we offer heartfelt gratitude to those working to bring EMPOWER to you, both in the past, and for the upcoming year.
You aren't going to want to miss our next gathering, coming up March 5th-8th in Bonita Springs, Florida. Register now if you haven't already.
Did you enjoy Aisha's blog? Check out her previous post: What is EMPOWER?