WHITE PAPER: AVIATION GROUND CREW SCHEDULING
Piedmont Boosts Profitability and Decreases Flight Delays
Industry Challenge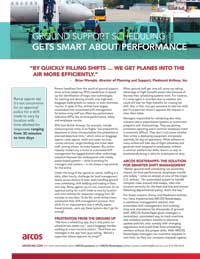 Piedmont Airlines needed an efficient ground crew planning system that could work with their staff seniority and union bargaining agreements. Inefficient staff scheduling was contributing to a loss in productivity, and sometimes led to flight delays that negatively impacted profitability.
Proposed Solution
Piedmont implemented ARCOS RosterApps workforce management software, which automated ground crew planning, scheduling and management to increase efficiency and reduce operational costs by filling shifts faster. They were able to save time scheduling while consistently abiding by agreements and rules to keep flights – and profits – going higher
Is your airline ready to fly higher with automation? Access this white paper and learn more!