Columbus, Ohio – March 7, 2017 
ARCOS® LLC, the North American leader in utility resource management software, has implemented its Software-as-a-Service  ARCOS® Callout and Scheduling solution at Peoples Natural Gas to modernize the utility's current callout response system for responding to gas leaks, restoring service and reporting on the restoration process.
"We learned about ARCOS from other local utility companies," said Barry Leezer, director of Customer Operations for Peoples. "Prior to ARCOS, we were using manual callouts that were slow to complete, and our challenges were with potential human errors and record-keeping.
Peoples is using the ARCOS system for after-hours call out of emergency crews. The solution will centralize data for 641 employees including first responders, foremen and mechanics of the Utility Workers of America (Local 612). The ARCOS solution stores workers' contact information, backfills shifts in the event of unplanned absences and tracks a worker's availability status.
According to Leezer, Peoples' executives will get a deeper level of reporting and information about the status of crews and service restoration efforts, available immediately upon request.
Gas utilities rely on the ARCOS solution, in part, when calling out workers for unplanned or emergency work. The solution accounts for complex work rules that ensure overtime is equitably parceled out to gas techs and mechanics in accordance with union agreements. If, for example, a first responder arrives at a gas leak over night or on the weekend and secures the leak but still needs a Peoples crew for repairs, a supervisor can launch a callout with ARCOS via a mobile device or laptop in minutes and assemble a qualified crew minutes later.
As the ARCOS solution automatically runs a callout in the background, dispatchers can monitor incoming calls about gas leaks and devote even more attention to handling emergencies. If the volume of emergency calls outstrips the number of available first responders, a Peoples dispatcher can use ARCOS to immediately identify and bring in additional first responders.
"ARCOS helps our customers by helping us deliver better service and gives us a safe and faster response time," added Leezer.
Peoples,  headquartered in Pittsburgh, Pa., is the largest natural gas distribution company in Pennsylvania, providing reliable, low cost natural gas service to approximately 700,000 customers in Western Pennsylvania, West Virginia, and Kentucky.
# # #
About ARCOS LLC
ARCOS is the North American leader in delivering crew callout and crew resource management SaaS solutions to the utility industry. ARCOS automates damage assessment and inspection, crew assembly daily and during emergencies, ultimately helping to restore energy faster, yet safely, to communities. The award-winning solutions help utilities save time and money, while improving customer satisfaction. Learn more about ARCOS emergency resource management software at www.arcos-inc.com.  ARCOS is a registered trademark of ARCOS LLC.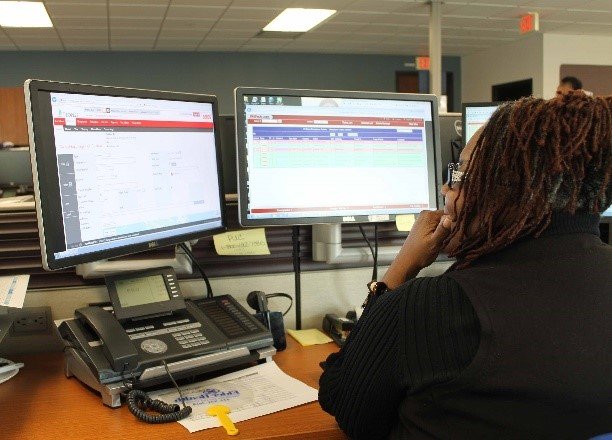 A Peoples Natural Gas worker at the Pittsburgh Dispatch Center prepares a callout in the ARCOS solution.                
Source: Peoples Natural Gas