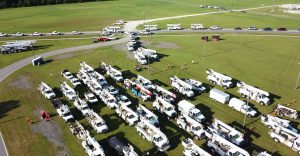 ARCOS loves it when a plan comes together but we love it even more when utilities unite under a common cause.
There is no group who is more giving and willing to go the extra mile than today's union linemen and women. We see it time and time again when a hurricane blows into America's coast. They put their lives and families on hold to help other families and communities in need, often hundreds of miles away from their own. They risk life and limb to serve others without a concern for overtime or the hazards they are about to face.
There is no other industry who has this dedication to resource sharing and the dispatch of mutual assistance convoys to the weather-stricken places where there are needed most. Business competition and trade secrets are put aside for the common good – and even though capes are not permitted on the job, we can still see them flapping on the backs of these heroes in defiance to the crushing strength of the hurricane wind.
Thank you. Thank you for making your job look easy. Thank you for your long hours, the time spent without your children, and the sacrifices your spouses make. Thank you for making our lives easier through your hard work and incredible diligence to restoration efforts. Thank you for being true first responders and facing the things you see with courage, strength and a commitment to making lives better as soon as possible.
ARCOS is proud to serve this industry and provide solutions that not only turn the power back on faster but make situations safer for the men and women doing the work.
Hurricanes like Dorian don't stand a chance when we face them together.
Bring it on Mother Nature. We're ready for you.