Case Study: Central Georgia EMC (CGEMC)
Automating the very manual process of calling out crews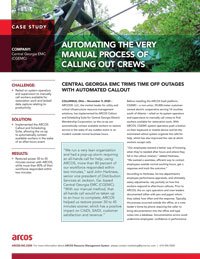 ARCOS® LLC, the market leader for utility and critical infrastructure resource-management solutions, has implemented its ARCOS Callout and Scheduling Suite for Central Georgia Electric Membership Corporation, so the co-op can automatically contact available workers to restore service in the wake of any sudden event or an incident outside normal business hours.
Before installing the ARCOS SaaS platform, CGEMC – a non-union, 59,000-meter customer owned electric cooperative serving 14 counties south of Atlanta – relied on its system operators and supervisors to manually call crews to find workers available for restoration work. With ARCOS, CGEMC system operators push a button on their keyboard or mobile device and let the automated callout system organize the calls for help, which has also improved the rate at which workers accept calls.
Thank you for providing your information. Please click the button below to download the case study.