Case Study: Southern Maryland Electric Coop (SMECO)
Cooperative Streamlines Crew Management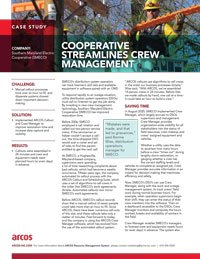 SMECO's distribution system operators can track linemen's skill sets and available equipment in software paired with an OMS.
To respond rapidly to an outage situation, utility distribution system operators (DSOs) must call on linemen to get the job done. By investing in new crew management technology, Southern Maryland Electric Cooperative (SMECO) has improved restoration time.
Before 2006, SMECO employed a call rotation and called out two-person service crews. If the serviceman or helper couldn't accept a callout, the time-strapped DSO would scan a roster and set of roles to find the person entitled to get the next call.
Thank you for providing your information. Please click the button below to download the case study.