CASE STUDY: CENTRAL HUDSON GAS & ELECTRIC
FOR 14 YEARS, CENTRAL HUDSON'S GAS-LEAK RESPONSE RATE INSIDE AN HOUR HAS BEEN NEARLY PERFECT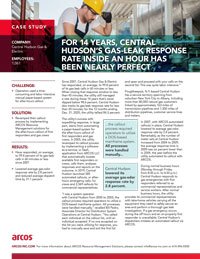 Since 2007, Central Hudson Gas & Electric has responded, on average, to 99.8 percent of its gas-leak calls in 60 minutes or less. When closing that response window to less than 45 minutes, the utility still managed a rate during those 14 years that's never dipped below 98.6 percent. Central Hudson also tracks its gas-leak response rate for less than 30 minutes; for the 12 months ending Dec. 31, 2020, the utility tallied 84.3 percent.
The utility's success with expediting response, in large part, stems from automating a paper-based system for the after-hours callout of first responders and gas crews.
Thank you for providing your information. We will be in touch soon!