Case Study: Central Georgia EMC (CGEMC)
Automating the very manual process of calling out crews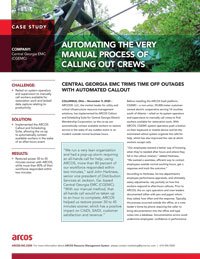 Before installing the ARCOS SaaS platform, CGEMC – a non-union, 59,000-meter customer owned electric cooperative serving 14 counties south of Atlanta – relied on its system operators and supervisors to manually call crews to find workers available for restoration work. With ARCOS, CGEMC system operators push a button on their keyboard or mobile device and let the automated callout system organize the calls for help, which has also improved the rate at which workers accept calls.
"We run a very lean organization and had a pop-up storm requiring an all-hands call for help; using ARCOS, more than 80 percent of our workforce responded within two minutes," said John Harkness, senior vice president of Distribution Services at Jackson, Ga.-based Central Georgia EMC (CGEMC). "With our manual method, that all-hands call would've taken up to an hour to complete; ARCOS helped us restore power 30 to 45 minutes sooner, which has a positive impact on CAIDI, SAIDI, customer satisfaction and revenue."
Learn more about how the co-op automatically contacts available workers in the wake of an after-hours event.