White Paper: Crew Manager
Improved Situational Awareness and Decision Making for Crews and Resources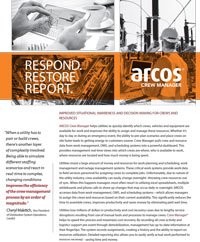 ARCOS Crew Manager helps utilities to quickly identify which crews, vehicles and equipment are available for work and improves the ability to assign and manage these resources. Whether it's day to day or during an emergency event, the ability to pre-plan scenarios and place crews on site faster leads to getting energy to customers sooner. Crew Manager pulls crew and resource data from work management, OMS, and scheduling systems into a powerful dashboard.
This provides management real-time views into which crews are where, who is available to work, where resources are located and how much money is being spent.
Please enter your information below to access the white paper.