Solution Overview: ARCOS Damage Assessment
ARCOS Damage Assessment Saves Time and Restores Power Faster
Who Needs It and Why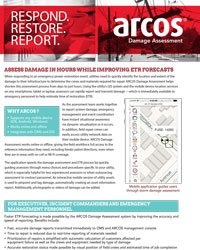 When responding to an emergency power restoration event, utilities need to quickly identify the location and extent of the damage to determine the crews and materials required for repair. Often, this process can take days, and this delays power restoration for frustrated customers.
How Damage Assessment Helps
ARCOS Damage Assessment helps shorten the assessment process from days to just hours. Utilities can more quickly arrive at an Estimated Time of Restoration (ETR), reduce costs and restoration time, and improve safety for field workers and customers following natural disasters. Using mobile devices, assessors can rapidly report and transmit damage to help speed up and improve ETR forecasts.
Could your company benefit from faster damage assessment? Access this solution overview and learn more!