Storm Damage Assessment
Software for Utilities
Stay Ahead of the Storm – Manage Storms Better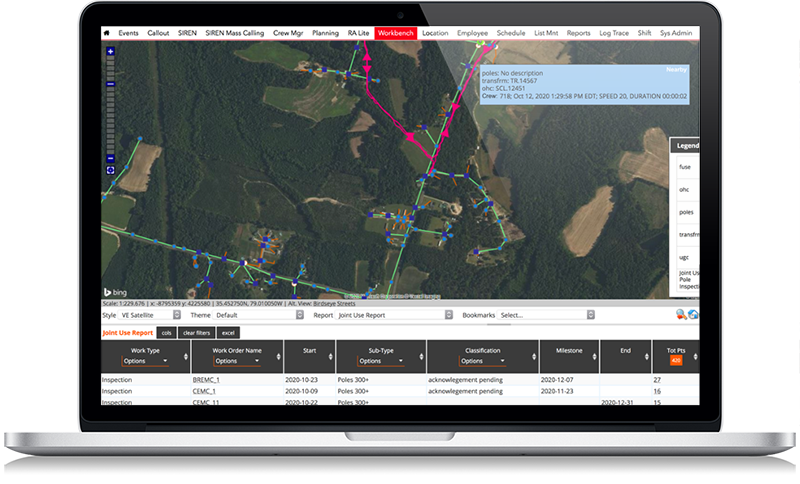 When unexpected disaster strikes, your response starts with damage assessment—sending crews into the field to understand the impact, gather information, and begin necessary repairs where possible.
With ARCOS Mobile Workbench, you'll get crews into the field faster and more safely, to gather better information in real time and help accelerate restoration. With more accurate estimates and a clearer picture of activity in the field, you'll improve customer satisfaction and reduce costs.
Top Benefits of Mobile, Damage Assessment Software for Utilities

Bring Together Native & Non-native Crews
Provide a single app experience across in-house and contractor crews, with all information gathered and updates channeled into the same system.

Reduce Field Inspection Costs
Any device can be used (BYOD) for employees or contracted resources, eliminating any need for expensive specialized devices.

Improve Accuracy and Detail
Pre-filled fields and guided assessments reduce the capacity for manual errors, along with GIS tracking and digital photos, all available in real time.

Boost Customer Service Metrics
Give customers the service excellence they expect through rapid response and repair times that lead to lower average customer and system interruption duration.

Accelerate Insurance & FEMA Payments
Automatically capture job details and enable crews to attach photos to document Damage by Outside Party claims and FEMA reimbursements.
Ensure Maximum Crew Safety
Set teams up for safe operations by providing important equipment specs and marking valves and switches with correct cutoff order.

Prioritize Your Projects
Easy prioritization for infrastructure repairs, including calculation of customers affected in a particular geographic area.

Increase Field Visibility
With location services provides a quick view of an inspector's location for both safety and monitoring job progress
"We're on the forefront of restoration because of our ongoing partnership with ARCOS and Mobile Workbench, which pairs our best-in-class response and repair, GIS, and outage management with technology that matches our scale and complexity."
Chris McClain, Engineering Supervisor – Grid Inform & Connectivity
SOUTHERN COMPANY
WEBINAR: Stay Ahead of the Storm
Join us for a discussion with a Distribution Performance Improvement professional from a large IOU, as he discusses how his crews effectively leveraged an intuitive, damage assessment field mobility solution to eliminate paper in the field, drive situational awareness and greatly improve restoration times for affected communities in a recent storm.
Manage Work, People & Assets In ONE Mobile Solution
ARCOS Mobile Workbench connects your work, people and assets in a single solution to maintain safety, lower costs, and improve customer satisfaction.
Seamlessly switch between blue sky projects and grey sky events

Enable collaboration between native and non-native personnel in the same system

Integrate data with powerful APIs to improve visibility and actionable intelligence
Mobile Workforce Management Insights
As electric transmission & distribution leaders think about the strategies needed to navigate the mobile workforce management challenges of today and tomorrow; multiple business priorities are top of mind, including ensuring safety at every moment, building automated system resilience, and containing field costs.