Plant Supervisors Refocus on Plant Operations Thanks to Automated Callout Solution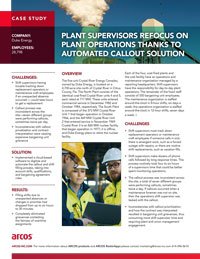 The five-unit Crystal River Energy Complex, owned by Duke Energy, is located on a 4,700-acre site north of Crystal River in Citrus County, Fla. The North Plant consists of the identical coal-fired Crystal River units 4 and 5, each rated at 717 MW. These units entered commercial service in December 1982 and October 1984, respectively. The South Plant is composed of the 373 MW Crystal River Unit 1 that began operation in October 1966, and the 469 MW Crystal River Unit 2 that entered service in November 1969. Crystal River 3 is an 860 MW nuclear facility that began operation in 1977; it is offline, and Duke Energy plans to retire the nuclear facility.
Please enter your information below to access the case study.