The Edison Electric Institute Response Awards were announced February 7th and we could not be prouder of the recipients!   EEI gave two types of awards – one to utilities that responded and one to utilities that assisted.  It truly takes a village, and investments in resilience and efficiency to effectively meet the industry's mission to provide safe, reliable, and affordable service.   Congratulations to you all – and a special salute to the utilities that are members of the ARCOS family.   
Storm Snapshot: Honoring Excellence in Power Restoration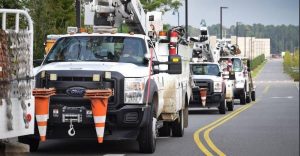 View the picture deck from T&D World
Want to learn more? Check out our latest series: The ARCOS Storm.  Our first installment focuses on the planning that has to take place for a major event and how technology can improve the planning process.  We've told the story through the eyes of an electric, gas and water utility.  Simply pick the industry that you want to learn more about.  Don't forget to sign up for updates so we can alert for the next installment.