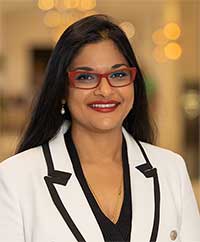 EMPOWER is ARCOS's annual user conference where we bring together our customers to network, learn, and excel in their use of ARCOS solutions for field mobility and resource management. In this blog series, Aisha Ghuman, ARCOS CMO, explores the different aspects of what makes EMPOWER so special and beloved among those who attend.
The 2023 EMPOWER Conference is over and was certainly one to be remembered. With more than one hundred and sixty utility customers in attendance, it was our largest event ever! It was also one of the most fun, and we have you all to thank for that. 
New for 2023 were free training sessions on Sunday covering the whole suite of ARCOS's mobile workforce management software for utilities. This was pitched by our amazing Steering Committee, the ARCOS users who shape the agenda, and it really paid off. Far more people attended those trainings than ever before, and asked lots of smart questions. It set a terrific tone to get proceedings started. 
Things officially kicked off Monday morning with CEO Boogie Wittenburg's keynote in which he unveiled not one, but TWO new ARCOS products. Mobile Workbench for Construction will revolutionize another aspect of field service mobility, replacing slow and error-prone technical processes with digital construction management software for utilities. Utility Insights is a customizable super-dashboard (or rather, a series of dashboards) that can help analyze data in extremely useful ways to inform the important decisions a company needs to make. Mike Chappell and Pedernales' Zach DeLeon presented an impressive and inspiring deep dive on Utility Insights, showing us how it's already working for one utility. 
Another highlight of Day One was a main stage discussion with American Electric Power's Vice President of Operations, Tom Kratt. He told us about AEP's journey and challenges frankly, providing an honest and informative look at what has gone well and what hasn't. There were definitely lessons for all of us to take away from it. 
Monday closed out with a seafood fry poolside. Beautiful and delicious. 
Tuesday focused on Mobile Workforce Management, with many sessions offered to expand understanding and usage of Mobile Workbench and the Mobile+ app, as well as other solutions. We were treated to the story of Connexus's journey of implementation. We heard about best practices for hurricane response. And we were engaged in a Q&A about how Mobile Workbench can automate tracking of materials and work, which can result in dramatically lower O&M costs by making it much easier to prove exactly where the resources go. 
Of course, Tuesday was capped by the always-popular Awards night. Many put on their finest for an elegant dinner. Customers were recognized for their accomplishments, and the beer and wine flowed freely. Mitch Chapman's parody performances were once again a highlight. The band was amazing and kept the dance floor hopping well into the evening. 
As always, Wednesday arrived too soon. A quick look at ARCOS's Product Roadmap, a bit of feedback, and then iPads were given away. Mike Williams of Salt River Project, Noah Dickson from Black Hills Energy, and Tracy Carter from City Utilities of Springfield MO won for their amazing performances in our Scavenger Hunt. It was a fun game throughout the conference where they racked up points discussing products with ARCOS staff and looking high and low for hidden QR codes with only a rhyming couplet clue to guide them. It was a blast and quite competitive, with 7 participants achieving the top score.
With the smoke already clearing, it's satisfying to reflect back on another successful event. Thank you so much to the ARCOS staff who worked tirelessly to execute it and give the customers a valuable experience. Thank you to the presenters that lent their time and expertise to foster collaboration and improvements throughout the industry as we work together to revolutionize workforce mobility. Thank you to the Steering Committee, who picked a lineup of topics that fueled the fire in us all. 
And especially thank you to all who attended and offered their ideas and feedback. Our users ARE the reason we do what we do, and they made EMPOWER great. See you next March in Hilton Head! 
Did you enjoy Aisha's blog? Check out her previous post: Time to EMPOWER