White Paper: Fixing Workforce Management
WORK SMARTER NOT HARDER: AUTOMATE WORKFORCE MANAGEMENT TO SAVE TIME AND MONEY
Industry Challenge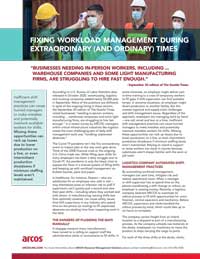 Today's aviation and logistics companies are struggling to find workers and fill critical shift gaps due to labor shortages. Many companies suffer from an inefficient crew management system that costs time and money due to mistakes such as overlooking available workers or scheduling people who lack adequate skills.
Proposed Solution
Mobile workforce management software like ARCOS's RosterApps can automate crew planning, scheduling and management save companies time and money by increasing efficiency, reducing operational costs, filling shifts faster and decreasing administration. An industry-specific crew management system can help the aviation and logistics industries reduce overhead and increase the bottom line.
Is your company ready to work smarter? Access this white paper and learn more!