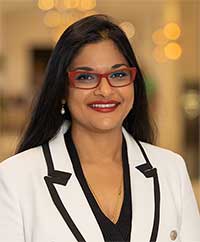 EMPOWER is ARCOS's annual user conference where we bring together our customers to network, learn, and excel in their use of ARCOS solutions for field mobility and resource management. In this blog series, Aisha Ghuman, ARCOS CMO, explores the different aspects of what makes EMPOWER so special and beloved among those who attend.
In our last blog we talked about the parts of the EMPOWER agenda that involve sessions, meetings, and formal exchange of ideas. But a significant part of the strength of EMPOWER is the informal times. Some are organized, some are not, but all increase the value of the conference in ways large and small.
Scheduled Networking
ARCOS EMPOWER always provides good food, and 2023 is shaping up to be no exception! But we want to feed your minds as well as your stomachs, so lunch on Monday and Tuesday (and following the day's events Monday) are Networking receptions. Grab a plate and sit with your peers (and ARCOS staff) to keep the conversation going. Pick the brain of a speaker that intrigued you or compare notes with another company. 
You can also network with us! Our customers drive our product roadmap. Many of the things you talk to us about get added to our development slate. Your feedback is invaluable to continuing to evolve our platform into the specific solutions you need in your organization. Pitch your ideas to ARCOS.
You'll also have the chance to ask the questions you keep meaning to write into Support but forget to do so. Our Support experts will be on-site and are eager to discuss your thoughts with you, too.
Or regale us with tales of your strangest days or most heroic deeds. It's informal. You do you. We're just happy to all be together.
Rolling Out the Red Carpet
Sunday evening, there will be a Welcome Reception. And Tuesday evening is the Big One everyone always talks about: the ARCOS OSCARS! Long-time attendees love to dress up and attend this gala. We present awards to our customers in a variety of categories. Musicians sing parody songs about the utility industry. And then we dance the night away! 
As you can see, we play as hard as we work, and the ARCOS EMPOWER Conference gives you the opportunity to do both. Make sure you register to join us in Bonita Springs this March.
Did you enjoy Aisha's blog? Check out her previous post: EMPOWERing the People Who Power the World