White Paper: Piedmont Airlines, Inc.
THE AIRLINE INDUSTRY
CAN FLY EVEN HIGHER
BY AUTOMATING GROUND CREW SCHEDULING
Industry Challenge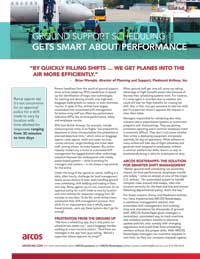 The airline and logistics industries have lagged a bit when it comes to automating employee crew planning and shift scheduling. Shift bidding and trading often takes too much time and administration. This can affect on-time performance and lead to flight and delivery delays. Not to mention disgruntling employees who want more efficient scheduling.
Proposed Solution
Mobile workforce management software like ARCOS's RosterApps can automate crew planning, scheduling and management to help companies increase efficiency and reduce operational costs by filling shifts faster. An industry-specific crew management system can help the aviation and logistics industries not only increase employee satisfaction, but also their bottom lines.