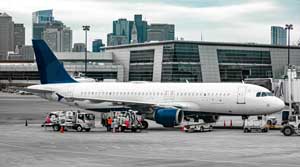 We're in the middle of a staff shortage. It impacts many industries, but airlines have certainly been among those hit hard. This has led to a myriad of issues. More flights have been cancelled. We've seen a 24% uptick in mishandled luggage. Companies face an inability to cover sick call-offs. One airline even had to have their executive staff help unload suitcases from a plane.
All of this has frustrated customers. There's also been plenty of bad press, even though these problems are rarely the fault of the airline. Flight delays are costing companies tens of billions of dollars per year. That number has been rising.
There is no easy out to the problem, which has many causes, and is expected to last for some time. But there are things that can be done to lessen its impact. ARCOS's RosterApps stands ready and willing to help mitigate the ground crew staffing challenge. We want to assist you in getting passengers in the air and your bottom line back on track.
Happier Employees, Fewer Delays
Employees are more likely to show up for their shift if they have some ownership in the process. ARCOS's RosterApps has self-service functionality for shift bidding and trading. It even allows for partial shift split scheduling. In this way, employees can take control of their schedule, and adjust it as needed.
ARCOS is configurable for all your workplace and union agreement rules, as well as applicable laws and seniority. This lets you set up the software to take all necessary criteria into account for shifts and bids. There's a bigger spotlight on labor right now and staff are pushing back on company rules. RosterApps can help you make those adjustments with each new change of policy or circumstance.
RosterApps replaces manual, time-intensive shift scheduling with a quick, accurate automated process. That, in turn, reduces issues and grievances. Employees are only able to bid for the shifts they are actually eligible for. It also tracks work time to make sure they aren't assigned too many consecutive hours or days. These rules apply to shift trades and coverage, too, so you don't have to worry about someone trading into a shift they aren't qualified for.
Employees love being able to manage their work schedules themselves. They won't have to wait in line or fill out paper requests. They can access RosterApps right from their smartphones. Approvals and change notifications can be sent by automatic text and emails.
Employee satisfaction with the system leads to greater retention and fewer grievances. In this environment, that means fewer shifts missed and flights cancelled. Which contributes to greater customer satisfaction and more profit for the airline.
Full, Controlled Visibility
Supervisors can use RosterApps to set bids, approve trades, and track employee actions. The menus and screens are intuitive and user-friendly. RosterApps eliminates paper, spreadsheets, and fax machines. That makes for a more efficient and resource-friendly operation. It also frees up time spent on those cumbersome tasks. This allows you to focus on larger strategy initiatives and customer satisfaction.
It also provides a consistent process. We know many airlines operate multiple locations with separate scheduling processes. By centralizing your ground crew shift scheduling and bringing everyone on the same page, you gain consistency and efficiency across the board. It's easier for areas to cover for others, and cross training is standardized.
Every action taken in the system is automatically logged. This applies to supervisors as well as employees. That makes for comprehensive reporting. Whether you have a question about a specific employee or paycheck, or want to analyze workforce trends, you can make use of the dozens of built-in reports that come standard in RosterApps. ARCOS is also happy to work with you to build custom reports.
RosterApps also has security features that allow you to control exactly who sees what. So managers can be set to only view their own departments, while executives can have visibility into the whole company. This helps leaders make informed business decisions. Your data lives in the cloud, and is accessible from anywhere at all times.
Integration Made Easy
ARCOS's RosterApps can easily be used as stand-alone scheduling software. However, it also has the capability to integrate into your existing system via API. This maximizes your existing investments, allowing you to not only keep, but extend the value of existing time and attendance software you've already invested in. We can take the data from those systems and load them into RosterApps, making it easier to view, manipulate, and update all shift scheduling and timekeeping information. There are different options depending on how much you want to rely on ARCOS versus your other software.
Because RosterApps is not on-premise, it contains web-based security protocols specific to what you need. You won't have install, update, or maintain any equipment, either; it's all built into the software, and updated automatically. New updates are rolled out based in feedback from you, with the system constantly improved upon in small ways to avoid disruption of service.
Keep Your Profit
Profits are falling with the current challenges. Crew costs are the second biggest expense on airlines, after fuel. And when the crew isn't working well and flights are cancelled, those profits shrink.
RosterApps gives your team the oversight to spot problems well before they arise. Ground crews can be rebalanced or reassigned if too many people are scheduled for a certain task, or if an area isn't being covered. This prevents money loss if those problems are allowed to unfold unchecked.
The benefits of all of the above go right to your ROI. More satisfaction and more shifts filled mean more money for your company. Employee retention means fewer resources spent on training and onboarding. Customer satisfaction results in fewer refunds and more tickets sold.
One airline that adopted RosterApps said, "Since launching ARCOS RosterApps, I've never heard someone say it's too complicated." High praise for a system that does so much, handling all your ground crew scheduling needs.
ARCOS's RosterApps is a powerful tool that employees and management love. It empowers everyone to take ownership of their own area, and provides the oversight needed to keep business running smoothly. It saves you money by automating manual processes and helping spot problems before they occur. It's configurable to your specific needs and legacy software.
Contact us to get a demo of RosterApps to see how it can help your airline with today's toughest challenges.