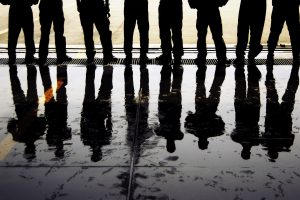 In a day and age when we can stream almost any TV show ever made to a device held in the palm of our hand, it's hard to believe that some in the airline industry are still scheduling ground crews using paper forms and Excel spreadsheets. The errors and rework that manually adjusting or assigning traded shifts can cause is a tedious process, especially when those exchanges can tally in the hundreds. Resource management innovation has moved past these antiquated modes of working by providing automation that eliminates this massive headache for Station Supervisors and un-knots the time it takes to properly staff shifts based on employee skill sets.
This technology is available now in ARCOS RosterApps.
Let's take a look at a quick hypothetical. A ground crew employee is caught off-guard by a family matter that they need to attend to, yet they are scheduled to work a six-hour shift that evening. That employee dashes to ARCOS RosterApps and contacts a superior with a tagged caption that reads along the lines of "in urgent need of shift replacement." A solution then has multiple ways of manifesting itself. If work rules allow it, the employee could simply request "real time" PTO to a supervisor. The supervisor can either approve, deny, assign that shift to another employee or even post it to the Open Shift board. By presenting multiple avenues towards finding a solution, ARCOS RosterApps allows for greater flexibility in real time and makes balancing work and life much more achievable.
An everyday process kicks off with a supervisor posting a bid to a Work Group. That shift is then open for claims from other employees within the group who are interested in picking it up.  Initiating a "bidding" process for the shift includes multiple employee interests – such as a hierarchy based on seniority and specific preferences set by each individual employee. If any conflicts arise, supervisors are notified immediately to reach out to involved employees and resolve the issue. Factored into the equation are union rules, employee skills, and mandatory time off. This all takes place in a fraction of a second and leads to the filling shifts faster without worry of mistake or operator error.
Modernizing flight and ground crew scheduling is easy and stress-free and helps airlines save money and regain the valuable employee time wasted while navigating outdated procedures. Contact us to find out how ARCOS RosterApps can innovate your scheduling procedure.