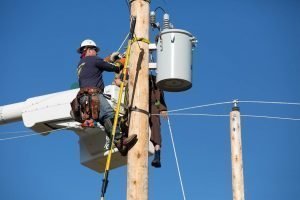 Support for the physical and psychological tole of disaster relief has been in the news a lot lately with the recent extension of the September 11th Victim Compensation Fund until 2090. (https://www.cnn.com/2019/06/12/politics/first-responder-victims-compensation-fund-passes/index.html) The public was up in arms regarding Congressmembers' perceived lack of interest in the testimony of gravely ill first responders affected by 9/11.
While nobody doubts the courage, sacrifice, and service exhibited by traditional first responders such as police officers, firemen, and EMS crews, there is a well-deserved push to recognize utility line workers as first responders in order to ensure they are given the same sort of support.
In the weeks after Hurricanes Harvey and Irma caused extensive damage across the US in 2017, UWUA President Mike Langford stated:
 "Now it's time for our elected leaders to recognize us as first responders as well. When disaster strikes, we are on the scene doing those things that make it possible for other first responders, including police and fire personnel, to do their jobs. We are responsible for making disaster sites safe places to work so that others can do what needs to get done. Yet, we do not enjoy the same legal status as other first responders." (https://uwua.net/magazine/we-are-first-responders/)
Utility Workers and PTSD
In the years since 9/11, multiple studies have been conducted examining the long-term emotional and psychological effects of the disaster, not just on first responders, but other disaster response workers such as utility workers. In one such study (https://giosan.com/publications/wtcptsdpredictors.pdf), it was determined that out of 2,960 utility workers studied, 8% tested as having "full" PTSD and an addition 9.3% had "subthreshold" PTSD.
Although 9/11 stands out as an anomaly in terms of scale of destruction and loss of life, it serves as an indicator for the true impact natural and man-made disasters have on linemen. Not only are they enduring difficult conditions such as extreme weather, poor sleep, and high stress, but often they witness traumatic scenes including towns wiped away, families in shock, and worst of all, injury and death.
How to Support Linemen
It's important to do what we can to support our linemen before, during, and after disasters to ensure both their physical and mental wellbeing is being looked after. It's encouraged that all utility companies have a policy in place for dealing with their workers during disasters and ensuring there is a safety net beneath them.
ARCOS is committed to the health and safety of lineman and utility workers everywhere. Our solutions such as Callout and Crew Manager, as well as safety check functionality,  were a direct response to answering the industry's need to respond, restore and report during crisis situations. We're proud to support the work they do, often putting their lives on the line day in and out.  https://www.arcos-inc.com/solutions/
For more information on how you can support our linemen, click on these additional resources:
National Institutes of Health's Coping with Disasters: Health Information Guide (https://disasterinfo.nlm.nih.gov/coping), in specific, its section on help for response workers (https://disasterinfo.nlm.nih.gov/coping#For_Emergency_Responders,_Healthcare_Workers,_Journalists,_and_Volunteers)
Substance Abuse and Mental Health Services Administration's Disaster Distress Helpline (https://www.samhsa.gov/find-help/disaster-distress-helpline)
US Department of Veteran's Affairs National Center for PTSD's section on Disaster Rescue and Response Workers (https://www.ptsd.va.gov/professional/treat/type/disaster_response_work.asp)
Center for Disease Control's Traumatic Incident Stress: Information for Emergency Response Workers (https://www.cdc.gov/niosh/docs/2002-107/pdfs/2002-107.pdf)