ADVANCED RESOURCE MANAGEMENT SOLUTIONS FOR CRITICAL INFRASTRUCTURE INDUSTRIES
Eliminate Grievances, Respond to Cyber-security Breaches Faster, and Improve Visibility and Transparency with ARCOS Automated Callout Solutions
Scheduling and automated callout capabilities in one
As a scheduler, you need to know when employees are currently working, and who's available if they're not currently working. Schedules are volatile and change quickly based on absences, training, or when an employee is ineligible due to overtime restrictions, qualifications or grade.
ARCOS Automated Callout and Scheduling is a powerhouse solution for manufacturing plants that need to create and manage shift schedules and get employees to work as quickly as possible.
With safety and security as a priority, you want your supervisors on the floor – not in their offices calling people for work. When shifts have to be covered, ARCOS can help you get available employees with a push of a button wherever your supervisors happen to be.
ARCOS Callout and Scheduling Capabilities
Create shift schedules including length of shifts and variable shifts – for example summer schedules vs holiday schedules or any other patterns that are specific to your business.
The power comes from integrated automated callout capabilities. At a push of a button the system will call the right employees that are available with the right grade, qualification or even from a volunteer list that employees can put themselves on.
Create multiple lists for necessary shift coverage through automated phone calls, texts, notifications and alerts at the simple push of a button.
Cloud Based and Mobile Ready. Collect Information Fast and Provide Instant Visibility
Employees and Supervisors benefit from visibility. Using the ARCOS Mobile App for Android and iOs, employees can put themselves on volunteer lists, update their status, see where they are on the list for the next call as well as update their contact information so records are kept clean and up to date – right from their mobile phone. Employees and supervisors can also view employee acceptance rates and availability percentages.
Supervisors can use the ARCOS Mobile App to view current shifts and who is filling them, make adjustments and updates to schedules as well as and view and update employee status right from their mobile device.
Eliminate and Prevent Grievances with ARCOS Resource Management Solutions
For critical infrastructure managers  that schedule lots of workers to fill many shifts, ARCOS automated callout and scheduling solutions help companies automate the adherence of collective bargaining agreements. Using ARCOS plant managers or supervisors can schedule and fill shifts automatically in the correct order via phone, or text and maintain detailed records of current shifts and real time resource availability.
Historical data is captured for easy lookups when inquiries are needed:
What times and how many times an employee was called
Who responded and how
Recording of all responses and calls
Zero touch roster details and ordering at point of contact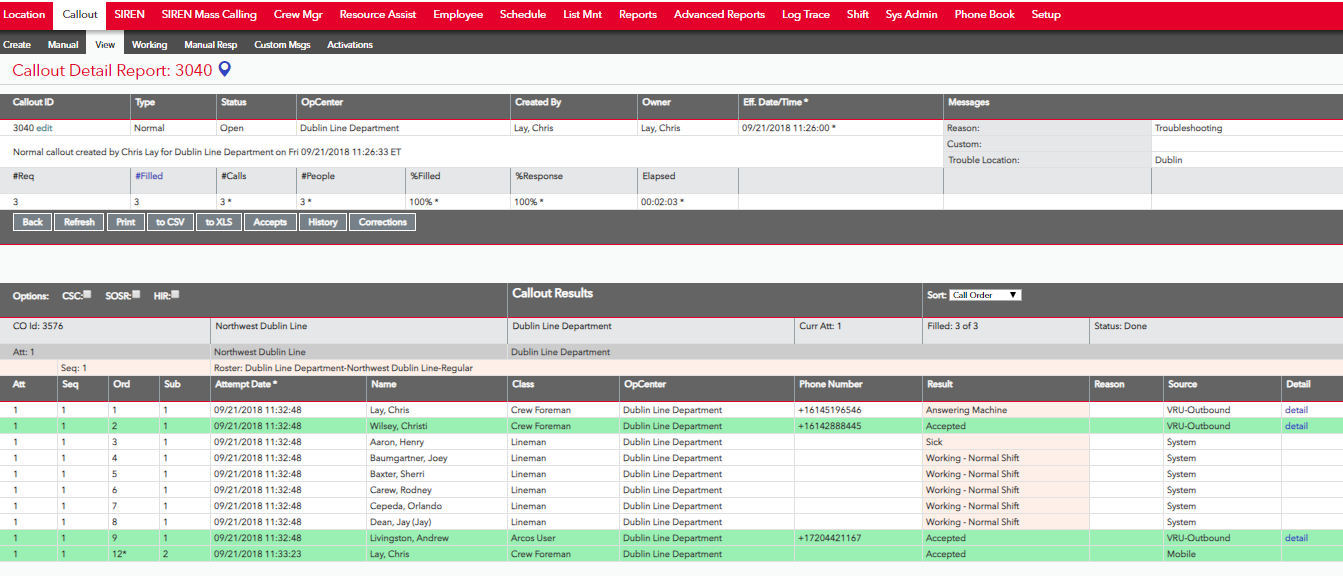 Learn how you can work smarter!
Receive a Hard Cost Case Study By Completing The Form Below