Solution Overview: ARCOS Mobile Inspection
ARCOS Mobile Inspection App Improves the Speed and Accuracy Field Inspections
Who Needs It and Why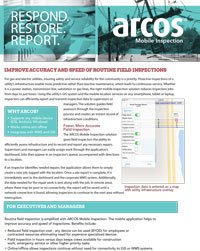 Utilities need a more efficient way to dispatch crews quickly, even when it's just for inspection and maintenance. Plus, utilities could improve productivity if they had real-time and historical access to field worker data. The lack of automated systems keeps many utilities in reactive mode versus preventive.
How the Mobile Inspection App Helps
ARCOS Mobile Inspection App is for crew workers' smartphones and tablets. It empowers utility work crews to get on the job faster, work more efficiently and process repair forms online in real time. It improves the accuracy and speed of routine inspections, enabling utilities to boost productivity and move toward preventive – not reactive – maintenance.