White Paper: Mobile Workbench
Flexible Mobile Work Management for Municipal and Cooperative Utilities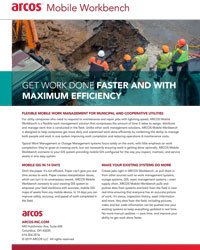 For utility companies who need to respond to maintenance and repair jobs with lightning speed, ARCOS Mobile Workbench is a flexible work management solution that compresses the amount of time it takes to assign, distribute and manage work that is conducted in the field. Unlike other work management solutions, ARCOS Mobile Workbench is designed to help companies get more daily and unplanned work done efficiently by combining the ability to manage both people and work in one system improving work completion and reducing operations & maintenance costs.
Typical Work Management or Outage Management systems focus solely on the work, with little emphasis on work completion; they're great at creating work, but not necessarily ensuring work is getting done optimally. ARCOS Mobile Workbench connects to your GIS system providing mobile GIS configured for the way you inspect, maintain, and service assets in one easy system.
Please enter your information below to access the white paper.