WHITE PAPER: MOBILE WORKBENCH
YOUR SYSTEMS ARE FINE. THEY JUST DON'T WORK TOGETHER.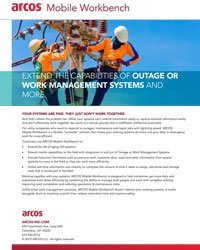 When your systems can't extend information easily or capture external information easily and don't effectively work together, the result is a manual process that is inefficient, ineffective and costly. For utility companies who need to respond to outages, maintenance and repair jobs with lightning speed, ARCOS Mobile Workbench is a flexible "extender" solution that makes your existing systems do more and your daily or emergency work far more efficient.
Please enter your information below to access the white paper.