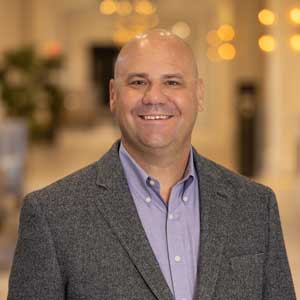 As electric utility leaders think about the strategies needed to navigate the workforce mobility challenges of today and tomorrow, multiple business priorities are top of mind, including a big crew change that leaves teams understaffed and reliant on contractors, increasing storm events, and an urgent need to enhance situational awareness. Jason Rhoades, Customer Success Manager at ARCOS, brings his voice of authority to our blog where his 23 years of experience on the front lines of the electric industry make him uniquely qualified to provide pragmatic insights, from adoption of new technology and unleashing crew performance to managing a hybrid workforce and meeting even the darkest sky work head on with the digital utility of the future.
When it comes to critical infrastructure, I can't think of any utility more critical than electric. Of course, I'm biased having grown up in power distribution, so I'm sure gas and water utilities are right up there at the top as well. But when the lights go out, our modern way of life stops working – AC, the fridge, TV, and (worse of all for the younger generation) the internet. Outages from storms are truly devastating events and throughout my career there's nothing better than getting a round of applause from a neighborhood after restoring power.
Getting the lights back on, that's why most of us do it and for me it's sort of a family tradition going back to 1930. It started with my grandfather who helped build transmission lines while staying in line camps on the right of way. Dad did line work in West Virginia with only 1 bucket truck for the whole area. That was back when linemen had to routinely climb poles.
The utility industry has this rich tradition where you see lots of fathers and sons working together or even mother and sons working together in the field and back office. And I have a son that might just be interested in taking up the trade, making it 4 generations. I was a firefighter in the Air Force when my dad told me about an open line worker position in Winchester, so off I went, and the rest is history. My career in power began at Allegheny Energy, now FirstEnergy, but I spent the bulk of it at American Electric Power as a health and safety coordinator, distribution supervisor, and distribution system manager for AEP's Columbus district.
Getting the lights back on, faster. That's where technology has always played a role, from the introduction of the bucket truck to the iPhone. Advancements in technology have come faster and faster especially in my 23 years in the business. For older generations, technology has been met with resistance at first until they realize just how much of their day it saves or how much faster they can restore power for customers, including radio, pagers, robo-dialed phone callouts, laptops, and now mobile devices. But I don't see a point in the future where technology replaces people, which is why I believe the real "power" in the grid comes from the crews that keep everything working.
Nothing underscores the criticality of power restoration like hurricane Ian, which impacted more than 2 million households, but the restoration times were commendable even compared to that of hurricane Sandy in the same region just 10 years ago. Technology made it possible at a time when our industry struggles with a workforce shortage and the need to do more with less as service areas increase along with storm events.
Over the course of the next few blogs, I'm going to dive deeper into why technology in general and mobile workforce management in particular are poised to bring a new wave of service efficiency, cost containment, and situational awareness that is needed in today's complex electric utility industry. I'll share my thoughts about the incredible opportunities to unleash workforce productivity and empower our crews to focus more of their day on wrench time and respond to outages with improved situational awareness and safety. Stay tuned!
Did you enjoy Jason's blog? Check out his next post: Building the Digital Utility of the Future: Digital Utility Past, Present, Future