Solution Overview: ARCOS Resource Planner
ARCOS Resource Planner Provides Logistical Visibility for Stick Counts
Who Needs It and Why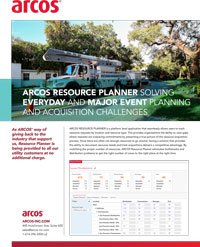 When utilities are calling out crews for restoration or maintenance work, its often helpful if they can build stick counts (crews without rosters) prior to scheduling. However, this is cumbersome and many utilities don't have the resources to do this easily or efficiently because they don't have good visibility into their logistical needs.
How Resource Planner Helps
For utilities using Crew Manager, adding Resource Planner gives them the benefit of seeing all logistical needs and pushing crews into Crew Manager even before rosters arrive. It helps supervisors create stick count crews by planning the resources they need and tracking crew acquisitions against requests, which accelerates crew scheduling even more.