MOBILE UTILITY WORKFORCE RESOURCE MANAGEMENT SOFTWARE
A mobile utility workforce resource management software that solves the planning and acquisition challenges that utilities face during significant and everyday events.
WORKFORCE RESOURCE APP FOR UTILITY CREW MANAGERS
Utility managers now have one software platform to quickly plan for and view all the resources they have – organized by type and location.
Welcome to ARCOS Resource Planner, a real time workforce management software.
The ability to create Stick Count crews from Resource Planner into Crew Manager allows Crew Manager users the ability to get a jump start on planning before the rosters arrive. This is especially important for lodging/logistics planning.
Additionally, "Stick Count" crews can be created in Crew Manager based on the allocations.  Stick Count crews are created in the denoted Crew Manager perspective and contain data derived from Resource Planner for Crew Name, Location, Event, Resource Type, and Count. The final step is to log arrivals of the crews. When the rosters arrive, the real crews replace the Stick Counts.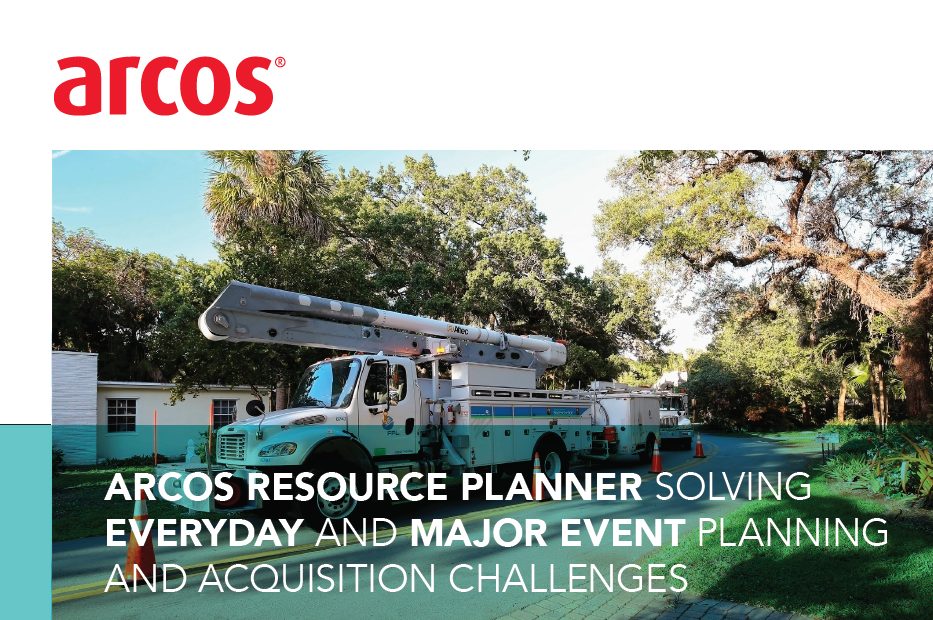 BETTER PLANNING = EFFICIENT AND FAST RESPONSE, RESTORATION, AND REPORTING
Resource Planner and Stick Counts bring a new dimension to the ARCOS Platform.  Now utility customers can effectively plan their event driven resource needs by resource type and location across their expandable/collapsible hierarchy while tracking acquisitions against these requests. By including the ability to create stick count crews directly from the Resource Planner, ARCOS improves the process of getting crews into Crew Manager so they can quickly get to work, while also helping make sure their logistics needs are identified.