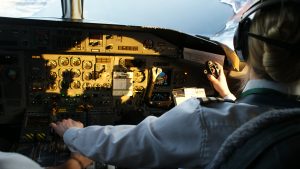 Pilot shortages. Union trends. Grievances. These themes wove their way through headlines in 2018, and will have a place in airline news for years to come. With the need for more pilots, and an increasing spotlight on labor rules and regulations, what kinds of industry union trends are emerging?
A recent report from CAPA (the Centre for Aviation) revealed that during the first half of 2018, published aviation new articles had an increase in the use of the word "strike". Their summary report also highlights that as a result of the pilot shortage, both pilots and unions are feeling more confident.
Other findings from CAPA's report include:
Globalized business models are challenging unions
It's crucial to ensure that airlines and unions have needs that align in the industry's best interest
The current pilot supply is not keeping up with the demand for new pilots
Over the past five years, the airline industry has also seen an increase in mobilization and a defense of a right to organize among ground crews and subcontractors. One common theme between airlines, unions, and public officials alike is safety for travelers.
According to an article on skift.com, a boost in pay and more training opportunities for airline employees contributes to safer conditions for passengers and an elevated employee retention rate. If an airline has high turnover, then employees may be less prepared to handle incidents. This factor alone can give unions the upper hand when advocating for policy changes.
As labor rules and regulations continue to adapt and change, it can be extremely difficult for schedulers to remember who they are allowed to call when a spot opens for both flight and ground crews. Our research shows that schedulers go through a variety of tedious processes to fill open spots – from pouring over paper lists, folders, and complicated spreadsheets, to shifting through files in large boxes to confirm their union rules and that they are calling the correct employees.
ARCOS solutions are configurable to your specific labor rules for flight and ground crews, eliminating the need to determine who you have to call, and automating the manual call process all together. With evolving rules, pilot seniority, paid time off, and sick leave – you have enough to remember. Let our software do the work for you and keep your unions, and airline happy.