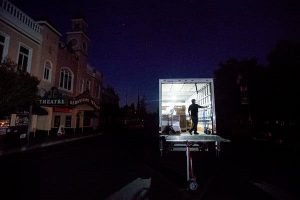 With winds gusting up to 88 mph, Thursday's 'Bomb Cyclone' left approximately 462,000 households without power in Northeast. Yes, that's a lot of households, but the economic costs to local communities is extreme. The Bomb Cyclone is estimated to have an economic cost of approximately $720M per day.
As dry, strong winds picked up and blew across Northern California, PG&E decided to take their largest preventative measure against wildfires ever – they cut power to nearly 800,000 residences and businesses. A good number of California's population was affected – with large parts of Santa Rosa, Petaluma and other major cities north of San Francisco darkened.
The community cost of the shut-off is estimated to be as high as $2.5 billion. Doing the math, that translates to over $1,560 per customer meter per day – multiply that by the 800,000 meters impacted, and that's a staggering $1.2 billion dollars PER DAY. 
What became immediately clear to us was the staggering community cost of the shutdown and bomb cyclone – which can translate to all outages regardless if you're in California, the Northeast or anywhere. The community cost of not being able to conduct normal business – whether that's someone working from home, or a restaurant, or a large manufacturer – is far greater than the inconvenience. 
The faster utilities can restore service, the quicker they can alleviate the rising cost to the community. That's where ARCOS comes in. 
When ARCOS is deployed for resource management, the time it takes to restore power is shortened which reduces the costly toll an outage can cause to a community. From calling up an ICS structure, to using Callout to man crews, to managing crews and getting them on a scene, ARCOS' full situational awareness can efficiently manage an event for faster restoration and in turn, a community can find its way back to normalcy without incurring any more expense from their own pockets. 
We know more wildfires are coming. 30% of the pine trees in Northern California are dead because of a bark beetle infestation. That's a lot of fuel to burn. We know more weather events are coming too. By responding and restoring services just 1 day sooner, proactive utilities like PG&E and others can help reduce the community cost of outages. ARCOS is proud to provide the solutions that can help electric, gas and water utilities restore service faster and reduce the impact on local economies.