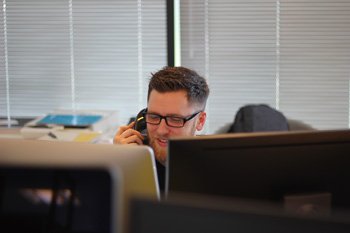 How often have you gotten stuck while using software? You either didn't know what to do next or weren't sure if the system you were using had the capability you were looking for. Even experienced users, working with well-designed interfaces, need help now and then. It's vital that any company you work with provides a strong support team. It is arguably the most important offering a technology company can supply.
Yet so many companies thwart users with complex phone trees and long wait periods. You're busy and you don't have time to navigate confusing processes to speak to someone. You shouldn't have to jump through such hoops.
If you haven't had the need to reach out to ARCOS yet, you're missing out on one of the best in the business. Unlike many companies, our team isn't a hassle to reach.
The ARCOS Support Team
For most ARCOS Resource Management platform users, the first step when seeking support will be to contact your internal team or ARCOS admin. This is your company's designated support staff. These employees are usually experts or power users and are familiar with your specific configuration. If they can't solve a user's problem, they should reach out to ARCOS for additional support via the OSCAR portal, or give us a call.
ARCOS has a support team available for those designated users 24/7/365 (and we're easy to get ahold of!). No matter the time of day, regardless of your time zone, you'll get a response within 10 minutes. They will work diligently to get you an answer and resolve the problem. Also, they can educate you on features you may not be familiar with.
The ARCOS Support team is staffed by experts, divided into tiers. The front line can usually find the answer. If not, they will get a more specialized colleague involved to track down a solution. We work together, relying on one another. No matter who you are communicating with, you get the breadth of knowledge from the entire team.
The OSCAR Portal
As mentioned, the easiest way for a company's admin to communicate with ARCOS Support is through the OSCAR portal. It is an electronic ticketing communication system. Users will not only be able to see their own tickets, but also tickets from others in their organization. This makes it easy to work as a team on your end. It also helps when staff members are absent or otherwise unavailable.
But the OSCAR portal is not only a sophisticated ticketing system. It is also an invaluable reference tool. The ARCOS Support team is currently building a knowledge base. We're also creating an online, community for our clients. This will allow you to find the answers even faster on your own. You'll be able to work with users from other companies. Sharing ideas across organizations will improve everyone's efficiency. You will also be able to learn tips and tricks that may improve your process in ways you had not considered.
Good user support is not just thorough and easy to get a hold of; it is empowering. That is what ARCOS does. In addition to providing a solid support foundation, we enable you to be an expert of your configuration yourself. And we will always respond when you need us.
If your company isn't using ARCOS yet, talk to us to see how we can help.