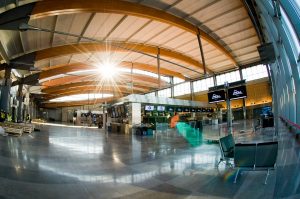 From journeying abroad for pleasure, to bleisure travel (the new term for extending a business trip for leisure), global trips are on the rise. Planes are transporting more people than ever before, and over the next 20 years, airlines are projected to double the amount of annual flights – accompanied by rising ticket prices and other fees. But if an increasing number of travelers are continually paying more to fly, then why are airline profits free-falling?
According to the IATA (International Air Transport Association), airlines globally made less money in 2018 than 2017. From 2017 to 2018, airplane arrival delays went up 26.8%, and the number of cancelled flights increased by 36%. (United States Department of Transportation)
Variables contributing to a decreasing ROI for airlines include: 
Paycheck overpayments when shifts are not logged correctly
High turnover among ground crew employees and schedulers
Keeping a larger number of reserve pilots than needed
Using more time and resources while scheduling air and ground crews during an IROP
The increasing cost of fuel for American airline carriers (up 4% from 2017 to 2018)
Delays and cancellations caused by national disasters and weather events 
Sound familiar? There is a way carriers can handle how they deal with these challenges. By investing in innovative technology that provides control over most of these diminishing factors of revenue, airlines can turn things around before it's too late.
With Ascend and RosterApps, ARCOS resource management solutions can provide ROI that can raise any airline's bottom line, with benefits like:
Cutting admin costs and time
Completely eliminating the need to pick up the phone and make manual calls
Operational efficiency gains and reduced turnover
Giving your employees the tool they need to do their job
Don't wait to start seeing a return on your investments in 2019 and help make this year your most successful yet.