JANUARY 23 – 25, 2018 | SAN ANTONIO, TX
HENRY B. GONZALEZ CONVENTION CENTER
We are really excited about Distributech 2018 this year!
#5 Keynote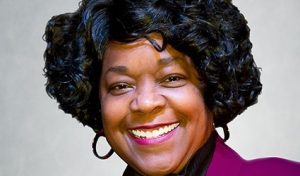 Paula Gold-Williams
President & CEO,
CPS Energy
Paula Gold-Williams is President & Chief Executive Officer (CEO) of CPS Energy. She assumed the role on July 25, 2016, after serving in the interim capacity for nine months.
As President & CEO, Paula leads its more than 3,000 team members with the vision she has coined "People First," whereby CPS Energy is evolving its efforts to create and deliver value to its employees, customers and community into a new age of energy solutions.Paula Gold-Williams
#4 Mega Sessions: The Role of Innovation
Power Panel, That's the best way to describe this hard-hitting session, with panelists ranging from a number of the country's largest utilities. As the utility industry prepares for the future, this panel will be presenting the steps panelists and their respective utilities have taken to develop a brighter, better grid for tomorrow and beyond. Come away with an understanding of processes for adopting new technology and a plan for implementing and accommodating new technologies.
Want to hear a specific utilities story? We have gone ahead and listed the panelist below so you don't miss out on their "Power Panel":
-Dirk Mahling, VP Technology, Alliant Energy
-Roy Lum, Director Business Technology, PG&E
-Raiford Smith, Vice President, ENTERGY
-Vibhu Kaushik, Director of Grid Technology & Modernization, Southern California Edison
#3
 Geospacial Track
This one is huge, so big in fact that we could not decide on ONE session, we had to choose ONE TRACK.
Welcome to the new age of geospatial technology, no longer is it just converting old paper maps into new digital versions. This track takes a look at how utilities are taking advantage of this technology to visualize data, interact with customers, employees, contractors, and regulators and have improved situational awareness and decision making.
Check out this summary view of all the sessions so that you can choose your favorites from this track.
#2 Leveraging Smart Grid Investments to Enhance Customer Engagement
At the end of the day, all the work utilities do is for the customer, this is a sentiment shared in one of ARCOS' own core values, "We are relentless about customer success" and something we strive to achieve every day. This customer engagement session is key to keeping in mind who you and your utility serve and how that relationship is set to evolve as utilities modernize and improve.
Panelists Carrie Harkness, Program Manager, Consumers Energy, Duane Pearson, Manager of Customer Program Innovation, Salt River Project and Michel Losier of NB Power will be participating in a panel discussing the business case and requirements of bringing customer engagement to the future.
Each panelist will detail how they strive for effective engagement approaches with customers and lessons learned through real-life case studies.
#1 Brad Baugh, Alabama Power – After Major Events, Utilities Assess Damage to Gauge What's Needed for Repairs. Alabama Power's new Mobile Damage Assessment Tool Cuts the Process from Days to Hours, Using GIS, Smartphones and
 Tablets
Automating the damage assessment process can massively improve restoration time by getting work in the hands of accessors at lightning speed, and returned to the storm center in real time by eliminating paper maps and other manual processes. Meaning repair crews can be dispatched faster to improve restoration times. There's a host of other benefits which we're sure Brad will cover and you won't want to miss.
See our previous blog post for more details on this session.