White Paper: Recovering Storm Restoration Costs
A Happy Ending to the 'Cost-Recovery Nightmare'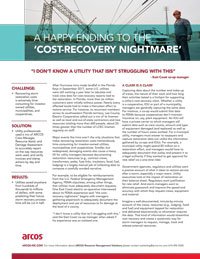 After Hurricane Irma made landfall in the Florida Keys in September 2017, some U.S. utilities were still working a year later to tabulate and track crew data for cost-recovery reports tied to the restoration. In Florida, more than six million customers were initially without power. Nearly every affected locale had to make a Herculean effort to restore service. For instance, to reconnect members across its southwestern Florida territory, Lee County Electric Cooperative called out a mix of its linemen as well as local and out-of-state contractors and tree resources totaling more than 600 people, about 20 times greater than the number of LCEC linemen regularly on staff.
Major events like Irma aren't the only situations that make recovering restoration costs tremendously time-consuming for investor-owned utilities, municipalities and cooperatives. Smaller, but widespread, damaging events also cause a heavy lift for utility managers because documenting restoration resources (e.g., contract crews, transformers, poles, fuse links, insulators, food, fuel, lodging) is a largely manual job of collecting data to compose a carefully worded narrative.
Thank you for providing your information. Please click the button below to download the white paper.