White Paper: Automating the Storm Cost Recovery Process
Automate Work Systems for Faster, More Lucrative Storm Cost Recovery
Industry Challenge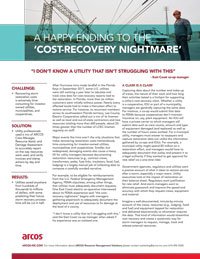 Recovering storm restoration costs is an extremely labor-intensive process that can take months. Gathering historical details and reporting for FEMA is difficult. Plus, there is always the worry that all costs may not be recovered due to inadequate and disparate expense tracking systems.
Proposed Solution
By implementing automated solutions like Crew Manager and Resource Assist, utilities gain a simple all-on-one system for assessing damage, tracking crew work hours, managing contractors, electronically gathering historical data and outputting comprehensive reporting for FEMA. This can cut cost recovery times in half, and can capture more expenses, making cost recovery more lucrative.
Could your company make cost recovery more lucrative? Access this white paper and learn more!