The Easiest Way to an Efficient Day in Water Operations
Improving the way water and sewer utilities respond to unplanned work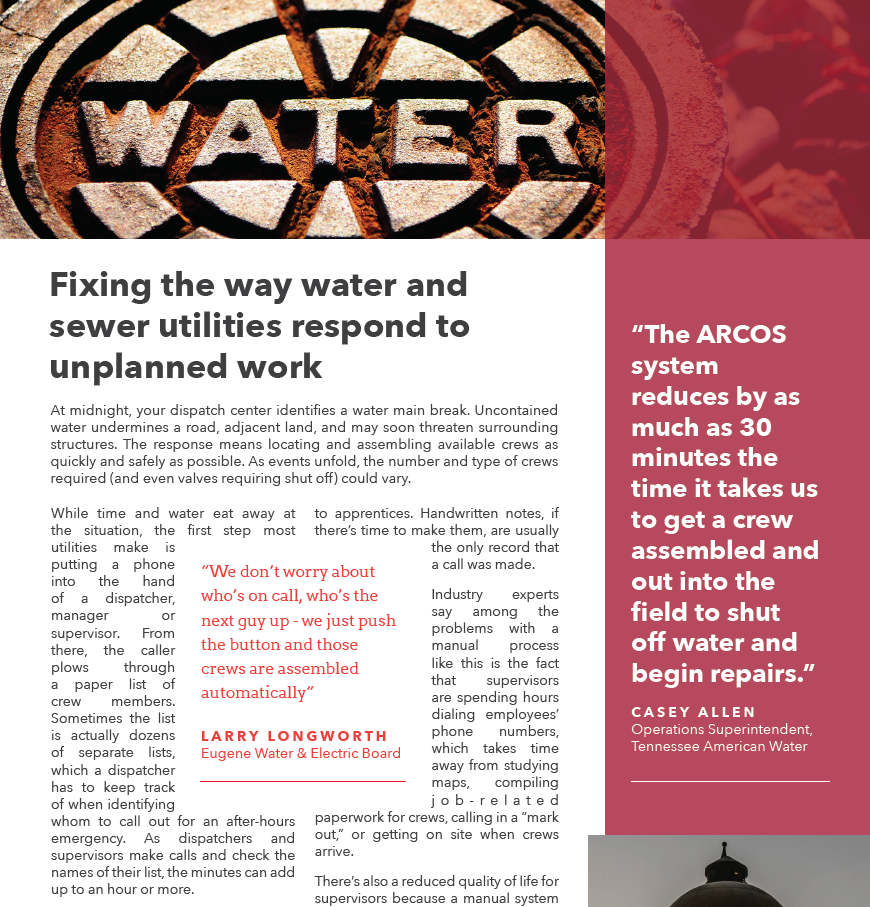 Managing your daily work is difficult enough without the wrench of unplanned or emergency events thrown in. When the inevitable unexpected happens, you need to go through the process of calling out your crews, managing communications to the field and reporting on progress until the issue is solved.
Easy, right?
Not only do you have to complete those tasks quickly, but you have to take into account union regulations or bargaining agreements, make sure the route is clear and the map is accurate, and provide status reports while you're trying to accomplish the job and safely resolve the situation. This level of complexity is only made more tedious by manual processes and lack of visibility in the field.
Automation can greatly help you prioritize and focus on the tasks that matter- getting repairs done safely and service restored to your customers as quickly as possible. Having an automated callout system and a way to communicate with your field technicians instantly can greatly help you with emergency preparedness. Using utility crew scheduling and callout services will take away those hours spent on the phone trying to get field crews to accept after-hours work, as well as allow you to have an accurate historical record of who was called and in what order, just in case there are any disputes after the event.
Fill out the form below to see how Suffolk County Water Authority, Eugene Water & Electric Board and Tennessee American Water are investing in automation to help them:
Achieve Situational Awareness
Better manage overtime
Reduce grievances
Communicate quickly when it matters