Your Storm Recovery Playbook
Technology to Accelerate Restoration, Advance Safety & Reduce Costs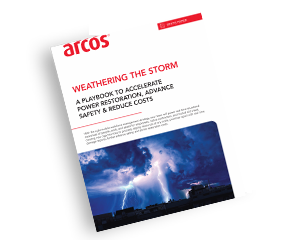 With escalating climate change, utilities are always in the process of responding to storms or preparing for the next outage event, from hurricanes and straight line winds to flooding and wildfires. Consequently, power restoration skillsets need to be robust and continuously improved in order to meet the increasing frequency and severity of storms.
With the right field mobility strategy, your team can learn to weather any storm—to power real time situational awareness of people, work, and assets for employees, native contractors, and mutual aid crews, creating new opportunities to precisely deploy resources at any scale, prioritize repair with real time damage reports, further advance safety, and shrink restoration costs.
Download our storm recovery technology playbook to learn more
Access the white paper now!