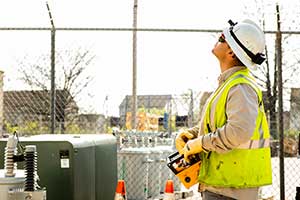 ARCOS's Callout is the gold standard for field crew callout and is used by nearly all of the nation's largest utilities. This automated callout system helps you build rosters and initiate automatic callouts. It is configurable to the highly specific and complex utility industry variables, including union rules, business procedures, and other work criteria. It meticulously tracks every part of the callout, including response rate. It offers a range of useful pre-built reports. Companies rely on our software to streamline their business and make that one aspect much more efficient.
But Callout isn't the only tool in ARCOS's arsenal. If you're only using Callout, you ought to check out Crew Manager, a workload management tool.
Manage All Your Resources in a Single System
The name tells you that this solution manages your workforce. You can build crews, assign them, and track them as they go about their operations. But it's actually much more than that.
Crew Manager manages all your resources. This includes vehicles and equipment, as well as personnel and associated expenses. It gives leadership real-time visibility into not just who's working, but also who is available. It's a comprehensive dashboard so that you always know where all your resources are and how much money is being spent.
For thirty party contractor or mutual aid crews, there is even lodging functionality in Crew Manager. You can preload hotel rooms you use and assign occupancy. Work with the hotels to get updates from them, as well, so you'll always know how many rooms you have to work with. You can also track expenses for travel and meals. All in a single solution.
See the Present, Prepare for the Future
Whiteboards and spreadsheets are static and go out-of-date quickly. Crew Manager is crewing software that gives every employee who needs it a look at what's going on at that very moment. You can also scroll back into the past to track completed jobs. Or go ahead and assign and plan for future dates and times.
Crew Manager is built for setting up future crew planning. You can try a variety of staffing scenarios to game out the best course of action. But even the best thought-out strategies aren't foolproof. Conditions on the ground can change without warning. Crew Manager lets you react in the moment. You can modify those pre-prepared assignments as needed.
Cheryl Maletich, Vice President of Distribution System Operations at ComEd said, "When a utility has to pair or build crews, there's another layer of complexity involved. Being able to simulate different staffing scenarios and react in real-time to complex, changing conditions improves the efficiency of the crew management process by an order of magnitude."
Ease of Use Saves Money and Time
Crew Manager is intuitive and easy-to-use, with minimal training required. This will save you time and allow you to initiate a quicker response. Which in turn leads to briefer outages and greater customer satisfaction. You'll see larger profitability because of the resources saved. It allows staff to focus on higher-level functions.
The main Crew Manager dashboard is simple, but has great capacity. You can drag and drop your resources based on their current availability. With a few clicks, you choose what you see and how it's organized. Work can be assigned both automatically or manually, depending on the needs of the moment. Formula functionality allows you to add in many complex criteria for deeper dives.
Crew Manager lets you build all the views you need for each specific purpose or supervisor. Select from many details to get what you need, and all you need. These views can be saved in folders for easy recall as needed. They can be built by any employee you grant access to, and shared among teams or across departments. Security features let you control all access as specifically as you'd like.
This is readily scalable as any good emergency management software should be. You can add new crews, increase the scope of work, and prepare for bigger jobs. All in the same system you use to manage daily operations. After an emergency, you can also scale down with ease. Those no longer performing tasks drop off for a clean view.
Seamless Integration Puts All Operations in One Place
Crew Manager was specifically designed to integrate with Callout. You can fill shifts with Callout and request personnel right through Crew Manager. You can also take the crews you call out and assign them work orders and resources. Callout paired with Crew Manager helps you see who is available, and then deploy them.
Resource Assist brings contractor resources into the ARCOS platform. It allows third-party vendors to load their own personnel, equipment, and other assets and send them right into your ARCOS platform. Crew Manager is useful to manage those, too. You can drop the contractor crews right in among your regular staff. You can track their progress on the same dashboards you're already using. Or separate them out if you need to; it's up to you.
Crew Manager also has a powerful API. It gives you access to data from other work and outage management systems. In this way, you're only using a single ecosystem for all your management needs. This allows you to keep your processes the same if you prefer, but make use of ARCOS's crew management software to gain accurate insights and overviews of progress.
Comprehensive Reporting Means Ready Proof of Work
Every utility knows that storm costs can be challenging to recover. Crew Manager makes that process so much easier, by providing ways to get your information submitted faster and more completely, returning a bigger reimbursement. A financial manager at a co-op said, "If we had ARCOS, a good chunk of the data needed for FEMA could've been downloaded in seconds… ARCOS would've cut our cost recovery process in half."
Automatic, detailed reporting in Crew Manager, just like in Callout, means you can easily verify work performed. This makes invoice reconciliation a snap. You'll save time filing for reimbursement when the information needed is right at your fingertips. You'll save money by spending less time pulling this data together. You'll also get back a greater portion of what you spend when the proof of labor is easy to pull and show to the proper authorities.
All the metrics you need to evaluate your operations are present. Check metrics on specific personnel, or at the crew or location level. You can use this information to increase productivity. Or adapt your processes based on crew performance and preferences.
We Can Help
It's important to have an agile, powerful software tool at your disposal. Especially with the ever-increasing pace of technology and communication. What solutions you use make a big difference in the efficiency of your organization. It impacts your bottom line.
ARCOS is prepared to help you through all conditions, blue skies and grey. Our comprehensive crew management solution makes your manual processes quicker and easier. It gives you the tools to look at them in ways you've never considered. It helps you identify improvements for your organization. You can achieve real-time situational awareness, eliminate the headaches of crew scheduling and response, and run the reporting you need.
If you're ready to see how ARCOS can help you, contact us for a demo.