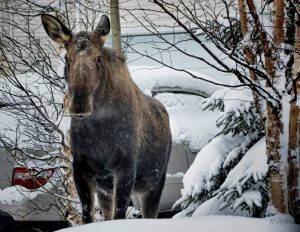 ARCOS® LLC – a provider of resource management software and services for critical infrastructure industries – will soon implement its solution for automating the way Fairbanks, Alaska-based Golden Valley Electric Association responds to, restores and reports on outages.
Using the ARCOS Callout and Scheduling solutions, GVEA's supervisors, dispatchers and line workers, among others, can plan, launch and track the status of automated, after-hours calls for emergency crews from their desktops, tablets and smartphones. GVEA will begin rolling out the ARCOS suite to line crew sections, then plant workers and, eventually, non-union workers needed for storm roles.
Gary Betsill, vice president of Operations for GVEA, joined the utility from Georgia Power where his former colleagues still use ARCOS to mobilize crews for after-hours emergencies and storm response.
"When I arrived in 2017," said Betsill, "the in-house callout program we used was rudimentary.  It could do a straight callout, but if you introduced a second- or third-man scenario, it didn't work."
With ARCOS, GVEA will ensure it calls out lineworkers according to the bargaining agreements in place with the locals of the International Brotherhood of Electrical Workers and International Union of Operating Engineers. The agreements with the unions confirm, in part, the equitable distribution of overtime. In fact, mirroring complex work agreements is a hallmark of the ARCOS solution.
"I sold ARCOS to our management by telling them the product's claim to fame is absolutely emulating the contractual obligations for callout procedures, every time," added Betsill.
But Alaska will surely offer some new and unique callout circumstances for ARCOS.
"We've had snow drifts so high a moose has walked into the power line and caused an outage," recalled Betsill. "We've had eight-foot drifts where caribou have walked over the fence, right into a substation."
Based on his past experience, Betsill also believes the ARCOS solution will reduce GVEA's System Average Interruption Duration Index, or SAIDI, which will be a bonus for the cooperative's members. The ARCOS platform will also serve a role in helping union workers participate for the first time in GVEA's Incentive Employee Program. Among the IEP goals for line workers is achieving a 50-percent callout acceptance rate, which the ARCOS solution will track.
According to its website, GVEA operates and maintains 3,216 miles of transmission and distribution lines, 35 substations and 8 generating facilities covering a 5,973-square-mile service territory.
About ARCOS LLC
ARCOS is a leader in delivering SaaS solutions for managing the resources of critical infrastructure sectors. The ARCOS solution goes beyond the callout of crews and automatically plans for all types of events, and reports on the up-to-the-minute location and status of equipment and crews via mobile technology for utilities, airlines, manufacturers and industrial facilities. The ARCOS resource management platform helps utilities, airlines, manufacturers and industrial facilities save time and money, while improving customer satisfaction and the efficiency and accuracy of operations. Learn more about ARCOS resource management software at  https://www.arcos-inc.com.