Automatically Knowing Who's Closest to the Customer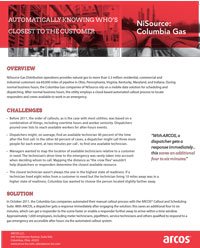 NiSource Gas Distribution operations provides natural gas to more than 3.3 million residential, commercial and industrial customers via 60,000 miles of pipeline in Ohio, Pennsylvania, Virginia, Kentucky, Maryland, and Indiana. During normal business hours, the Columbia Gas companies of NiSource rely on a mobile data solution for scheduling and dispatching. After normal business hours, the utility employs a cloud-based automated callout process to locate responders and crews available to work in an emergency.
Please enter your information below to access the case study.