Case Study: Piedmont Airlines, Inc.
Automated Scheduling Helps Piedmont Profit From the Ground Up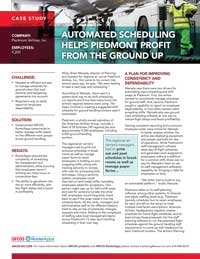 When Brian Wemple, director of Planning and Support for regional air carrier Piedmont Airlines, Inc., first came to his current role several years ago, he says, "We were looking to take a next step with scheduling."
According to Wemple, there wasn't a system-level way to do shift scheduling, run reports and know how many hours the airline's regional stations were using. The steps involved in creating a suggested shift schedule for ground handling workers wasn't automated.
Please enter your information below to access the case study.