Manually Filling Shifts Could be Costing You Millions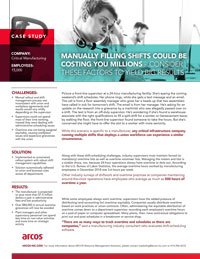 Picture a front-line supervisor at a 24-hour manufacturing facility. She's eyeing the coming weekend's shift schedules. Her phone rings, while she gets a text message and an email. The call is from a floor assembly manager who gives her a heads up that two assemblers have called in sick for tomorrow's shift. The email is from her manager. He's asking for an update on the research into a grievance by a machinist who was allegedly passed over on a shift. The text is from an off-duty supervisor. He's wondering if she's found a warehouse associate with the right qualifications to fill a split-shift for a worker on bereavement leave; by walking the floor, the front-line supervisor found someone to take the hours. But she's concerned she might have to offer the slot to a worker with more seniority.
While this scenario is specific to a manufacturer, any critical infrastructure company running multiple shifts that deploys a union workforce can experience a similar circumstance.
Please enter your information below to access the case study.