GET THE RIGHT PEOPLE, WITH THE RIGHT SKILLS, AT THE RIGHT TIME
ARCOS Resource Management solutions automate the process of filling open shifts – all while adhering to your union agreements or business rules. Using ARCOS, companies reduce the time it takes to find and fill open shifts from hours to just minutes. Employees receive notifications for open shifts they are eligible for and can quickly respond. With this technology, you can automate tedious manual shift bidding and even enable employees to trade shifts with built-in business rules to manage compliance. By automating manual shift management processes you can gain hours to focus on what's most important – safety and productivity.
FOCUS ON PRODUCTIVITY & SAFETY – NOT PHONE CALLS AND SPREADSHEETS
ARCOS is specifically designed to help organizations manage their most important resources – their employees. From shift management on a daily basis to emergency response, we can help you automate manual processes that take up too much time, help you empower your employees, and ensure your employees are focused on safety and productivity.
MAXIMIZE YOUR DAILY OPERATIONS AND GET SUPERVISORS BACK TO CRITICAL TASKS
Digitize the daily callout for unexpected absences and to fill future shifts – removing paper, spreadsheets and manual phone calls

Empower your employees with shift swapping and bidding – allow them to digitally swap shifts after they've been assigned, all while following your business rules and approval process guidelines

Reduce grievances with accurate callouts and swaps that automatically follow bargaining agreements, as well as the ability to quickly pull historical data and reports on your employees

Rapidly mobilize employees and contractors to respond to unplanned incidents that align with how you choose to deploy, whether it's ICS or your own response plan

Quickly request and manage contractors so you can get people on shifts faster

Automatically notify employees of changes or potential hazards
See how we helped one of our nation's critical infrastructure companies solve their shift management challenges and digitize their manual processes.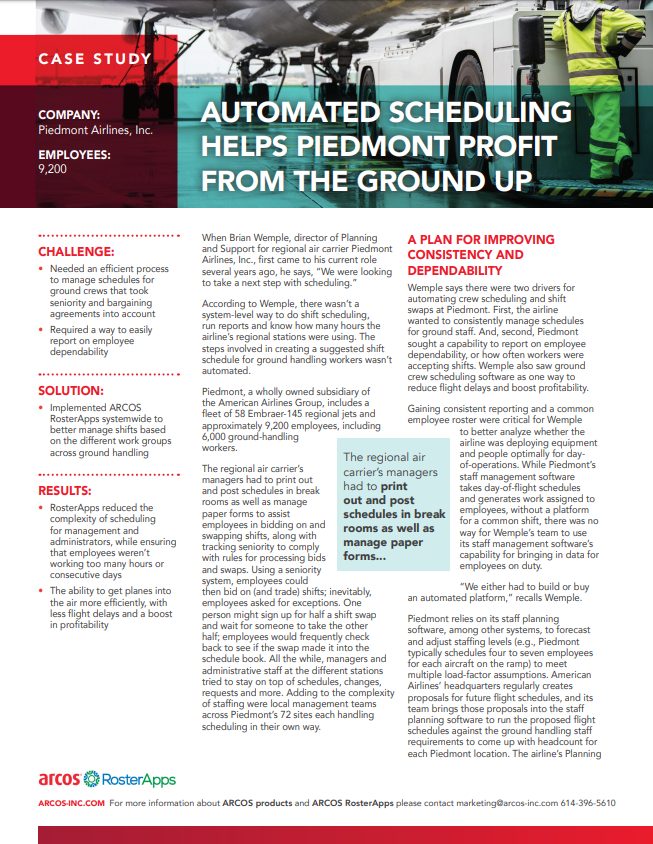 FILL & MANAGE SHIFTS WITH EASE
ARCOS Callout helps organizations RESPOND to staffing needs for planned and emergency work, RESTORE your operations and productivity safely, and REPORT real-time and historical information to key stakeholders. With this solution you can:
Eliminate phone calls and spreadsheets when trying to fill shifts for unexpected absences or future projects

Reduce grievances with automatic compliance to union or business rules, including real-time and historical data for response 

Track & Manage real-time availability of employees, quickly arranging the right people, with the right skills for the right job

Quickly cover shifts to maintain minimum staffing levels
REDUCE THE HEADACHE OF SHIFT SWAPPING & BIDDING
ARCOS RosterApps allows schedulers and supervisors to shift the balance of work to employees – letting them swap shifts after they've been assigned or bid on open shifts. The best part? Business rules manage your specific union agreements or policies, ensuring trades are compliant. With ARCOS RosterApps you can: 
Return time to supervisors to be on the floor instead of taking phone calls to adjust shifts and manually entering data

Enable employees with an online self-service model to accept, bid on and swap available shifts, giving them more control over their schedules within your established business rules

Enable supervisors or schedulers to electronically approve or deny requests, assign overtime or mark employees late/absent 

Maximize your existing investments in HR systems and provide real-time and historical data to streamline payroll accuracy
Request more information or get a demo by filling out the form below!