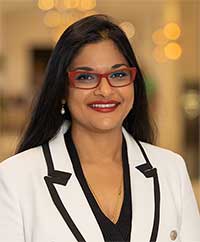 EMPOWER is ARCOS's annual user conference where we bring together our customers to network, learn, and excel in their use of ARCOS solutions for field mobility and resource management. In this blog series, Aisha Ghuman, ARCOS CMO, explores the different aspects of what makes EMPOWER so special and beloved among those who attend.
You registered for EMPOWER. You booked your flight and hotel room. You've got your phone charged up and your spirit pumped. You're all ready to go! Or are you? The last step of any trip is packing your bags and EMPOWER is no different. Here's a handy checklist to get you ready for the event.
DO 
DO download the Cvent Events Mobile App for Android or Apple and search for EMPOWER 2023. Then, login, upload a photo, and look for who else is attending. The EMPOWER app puts the agenda and everything you need to know, right at your fingertips! That way you won't have to carry any paper around or wander from room to room, looking at the topics displayed outside.
DO get your brain warmed up for the EMPOWER Scavenger Hunt, accessible through the app!
DO post on the Wall in the app throughout the event, and on LinkedIn using #empower2023.
DO wear comfortable shoes. Not only will you be walking between conference rooms and food service, but you'll want to be able to get your dance on at the ARCOS Oscars without hurting your toes. The resort also has a gym, if you're into that sort of thing. But we won't tell if you skip it for a few days.
DO dress up for the OSCARS! The theme this year is Glam It Up.
DO pack your swimwear. The Hyatt Regency Coconut Point Resort and Spa has more than one beautiful pool, as well as a hot tub. It's a great way to relax after a long day of talking shop.
DO come hungry. We'll have lots of delicious food and drink, as always, to indulge in.
DO feel free to add an extra day or two to your stay. The hotel has a spa, golf course, and other amenities. It's an easy way to tack some vacation on to the end of a work trip.
DO come excited and ready to collaborate with your peers! It's going to be a fantastic time and we can't wait to see you!
DO post highlights or fun moments at the event on LinkedIn with the hashtag #EMPOWER2023.
DON'T 
DON'T hesitate to ask us anything and everything about the conference, sessions, platform solutions, or anything else you can think of! We're excited to talk to you.
DON'T forget to review the sessions after you've enjoyed them. This helps us to keep improving and make EMPOWER even better next year.
DON'T worry, 'bout a thing. 'Cause every little thing, gonna be all right. We've got it planned out, and we're ready for you!
 We'll see you in Bonita Springs on Sunday, March 5th! 
Did you enjoy Aisha's blog? Check out her previous post: Get Your EMPOWER On