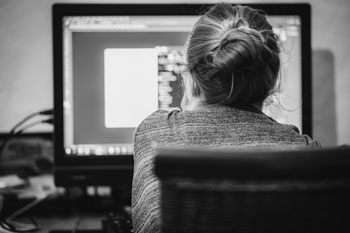 Working in the public sector means you must keep the public's trust. It's no wonder, then, that public organizations and municipalities have been slower to adopt new technologies than other sectors. New can be risky, and these organizations are held to account by the people they serve. They understandably want to protect that trust.
But digitization has many benefits that serve both the company and the community. The modern world is racing along, and more and more of our daily activities are online. People expect their utilities and other public services to keep pace. So, it's necessary to consider digital transformation; what that will look like, and how it will enable more efficient, fast, and reliable delivery of energy, water, and other resources.
Remote Work Attracts and Keeps Talent
Digitizing operations allows workers to operate from wherever they are. Some potential hires face constraints that prevent them from working outside the home. Or they may need more flexible hours. Digitizing gives opportunity to that type of prospective employee, increasing the pool of talent a company can draw from.
This type of work appeals to young people, who are more comfortable with technology. One study found that 75% of millennials prefer to work from home. They appreciate freedom, independence, and employer trust. Companies continue to face the challenge of replacing an aging workforce. It will benefit them to attract younger employees by offering the circumstances they want. Keeping those employees happy will help with retention. That saves money on new hire costs.
Remote work also benefits companies in a variety of circumstances. Work can continue uninterrupted in inclement weather. Employees don't have to brave the elements and hazardous conditions to get to their job. During emergencies, workers can sign into your system and respond faster. They only have to walk a few feet, rather than drive miles to their workstation.
Visibility in the Field Provides More Efficiency, Quicker Response Times
This savings can apply to field workers, as well. If they are deployed from their homes instead of an office, they can respond much quicker. Time spent getting to the central location is eliminated. Utilities can call out whichever qualified technician is closest to the problem. They can send them the information they need en route on their smartphone or tablet. A mobile work order management system can provide specific instructions and diagrams for the job. It can provide swift, secure methods to get extra parts.
Updates can be sent back to the office the same way. This provides supervisors with real-time visibility into the field. Field crews can send mobile inspection photos and updates. Supervisors can quickly identify when experts or additional skills are needed. They can then deploy more resources. Or, possibly have a specialist walk the on-scene crew through the repair process remotely.
Much of the process of calling out those employees can be automated once your systems are digitized. Work management software can instantly evaluate many employee attributes. This includes location, skills, qualifications, and availability. A lot of time is spent analyzing these criteria manually. Automating frees up supervisors to focus on solving the problem, rather than preparing to respond to it. Digitizing allows you to be more efficient, productive, and agile in restoring services. It eliminates manual errors and miscommunications with automated, instant updates.
One of our customers restored power 30 to 45 minutes sooner once they implemented ARCOS's workforce management software. More than 80% of their workforce routinely responded in under two minutes to the automated callout system. Another customer reduced its dispatch time by more than 30%. This improved their CAIDI and SAIDI scores, and also increased customer satisfaction and revenue.
Keeping Customers Happy Supports the Bottom Line
Municipalities that have switched to a digital workforce management solution see upticks in customer satisfaction. This makes sense because quicker response means service is interrupted less, and for a briefer time. The automatic visibility into how operations progress empowers companies to see the situation more fully and be more responsive. They can give them more frequent and accurate updates on what to expect through whatever channels they wish to communicate with those customers.
Having records digitized also allows utilities to provide more information to customers. In 2020, 85% of Americans own a smart phone (according to Pew Research), and that number is only continuing to go up. It makes sense to meet the public where they are. Many utilities have created their own apps or started updating their website frequently so customers can login to see a variety of information that affects them. Customers like this transparency. It helps them feel comfortable with what they're getting.
In a public works company, you may not have as many competitors to deal with as private sector businesses. But keeping your customers happy means they will feel more loyalty to you. When you have requests that go to the public, they'll be more supportive of helping you obtain additional resources and upgrades. It's a win-win scenario.
Save Money by Ditching the Office
I'm sure I don't need to tell you, office space is expensive. There's the rental cost for the space, compounded with utility use, supplies, furniture, and so much more.
With digitization and remote work, companies need less office space. By letting employees work from home, fewer desks and square footage are required in a central location. In some cases, multiple offices may be closed entirely. Allowing the workforce to operate from their individual dwellings saves the company money.
So, while streamlining manual processes, also consider streamlining the physical space, too. It can definitely help your profit margins.
Cybersecurity Threats Are Real, So Pick an Experienced Software Vendor
An examination of the benefits of digitizing public works would not be complete without addressing cybersecurity. One study found 74% of IT security professionals are concerned about such threats and think it likely they'll have to deal with incidents.
Overall, though, digital efforts are more secure than paper files. Anyone can walk past a desk or open a filing cabinet and look at a document. With modern work management software, leadership can control exactly who accesses what data. This ensures each employee has access to the information they need, and not to what they don't.
That's why it's so important to use software that you can trust. Choose companies that have been around and know what they're doing, rather than start-ups that have little public sector experience or shaky funding.
In the security category, ARCOS has a distinct advantage. We've worked with more than 200 individual companies. Each have their own security policies, so we have insight into what works and what doesn't. We're able to comply with varying security protocols and learn from them. That has allowed us to build the most secure network possible to safeguard your data. We have a variety of checks in place to ensure continual uptime and data security.
The benefits of digitization are numerous. Work is done more efficiently. Employees are happier, supervisors have better visibility, and customers are more satisfied. Plus, the efficiencies save money and contribute to the bottom line because your resources are used wisely and many mistakes are eliminated. It can be done safely and securely.
ARCOS has a suite of workforce management solutions that can help you usher in a digital transformation to keep pace with today's demands. Contact us today to learn more about our software.