Every utility, at some point, will have to respond to an urgent incident. Whether a small power outage, a water main break, or a full-on natural disaster, a system needs to be in place to manage workers and supervisors as quickly and accurately as possible.
Many utility companies use a variation of the Incident Command System, or ICS, which was developed in the 1970s to help different departments work together effectively to fight wildfires in California. Since then, the structure has evolved into the National Incident Management System (NIMS).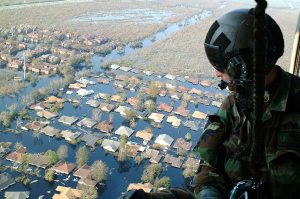 Because utilities often need to coordinate with the federal government in the events of large-scale incidents, it makes sense for companies to adopt a similar command structure. ICS is also extremely flexible and able to be applied in many different scenarios. The core ideas of ICS revolve around melding multiple agencies together quickly by giving them a unified chain of command and common terminology to use. It also significantly cuts down on freelancing and otherwise duplicated labor, saving time and resources down the line.
The flexibility of the ICS system, however, means that few utilities use exactly the same version of the system. Some utilities may have extra or fewer roles within ICS, and roles that have the same title across multiple companies may have varying responsibilities attached to them.
A number of factors can affect these structural and organizational differences. Whether the company is owned by an investor versus a municipality, as that alters whom workers ultimately report to. The type of services provided can also change the ICS framework, as responding to a water main break will require a different structure than a downed power line.
All these variables make creating an ICS system that spans all types of utility companies complicated.  A good example of how to do this is ARCOS' Incident Command Center. The Incident Command Center system can be tailored to each customer's needs by altering the organizational structure and the duties within it.
Furthermore, the system is very scalable. For a small incident, multiple roles can be condensed to be done by one employee, allowing other workers to continue routine work while the incident is addressed. These roles can also be broken up to be performed by multiple workers in the event of a major breakdown. This flexibility is key to a successful ICS system, one that saves the most time and overhead while also making sure incidents are addressed quickly and effectively.