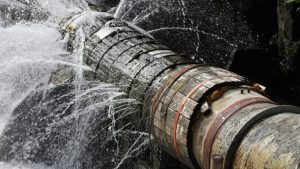 In the years to come, utilities and critical infrastructure Industries are facing incredible challenges. Topping the list is the spread of 5G technology, cyber-security, a potential economic downturn, change management, and climate change – but the number one item is aging infrastructure.
Just like a car longevity enthusiast who never replaces waning motor parts or stale automobile fluids on a regular maintenance schedule and suddenly finds himself stranded after driving a mature vehicle over 150,000 miles, organizations are finding that the future isn't looking great unless they start replacing, fixing and swapping out declining equipment and worn-out material now.
Automating the preventative maintenance process during daily operations is not only a forward-thinking idea but can increase your equipment's life span. Implementation is easy and ARCOS can deliver a solution faster than a rotten, wooden pipe bursting.
So how is your operation tackling the question of aging infrastructure? Do you have a plan in place? Are you thinking ahead and budgeting now for a future that is carefree and not burdened by constant breakdowns, overtime and scrambling to find workers to attend to equipment failures? Are you scheduling regular maintenance checks and inspections so you never have to deal with aging infrastructure again?