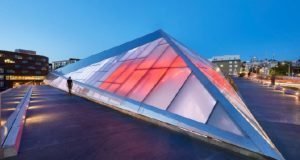 Seattle City Light has it right. Substations provide reliable power but why not use the energy hubs to add to a community's life, character and aesthetic?
The Denny substation is a new take on what substations can be. It's a 44,000 square foot, solar paneled architectural wonder that includes event spaces, public art and even has an off-leash dog park.
When you are building something for the city it serves, shaping the power structure to attract business and promote neighborhood togetherness is a great way to show you care and are serving your customers well. Bravo, Seattle City and Light! ARCOS salutes you!
What do you think the future of power utilities will be? Is it the responsibility of a utility to take on the role of being more than just a power hub in their communities?