Manage People, Work and Equipment In One User Friendly System
ARCOS MOBILE WORKBENCH PROVIDES FLEXIBLE MOBILE WORK TICKETING AND WORK ORDER MANAGEMENT SOFTWARE FOR UTILITIES
For utility companies that need to respond to maintenance and repair jobs with lightning speed, ARCOS Mobile Workbench is a configurable, user-friendly work and work order management software solution that compresses the amount of time it takes to assign, distribute and manage work conducted in the field. ARCOS Mobile Workbench is designed to help companies get more daily and unplanned jobs are done efficiently by combining the ability to manage both people and work in one system, improving work completion and reducing operations maintenance costs.
Typical Work Management, EAMS or Outage Management systems focus solely on the work, with little emphasis on work completion; they're great at creating work, but not ensuring work is getting done optimally. ARCOS Mobile Workbench connects to your GIS system providing mobile GIS configured for the way you inspect, maintain, and service assets in one easy online work order management system.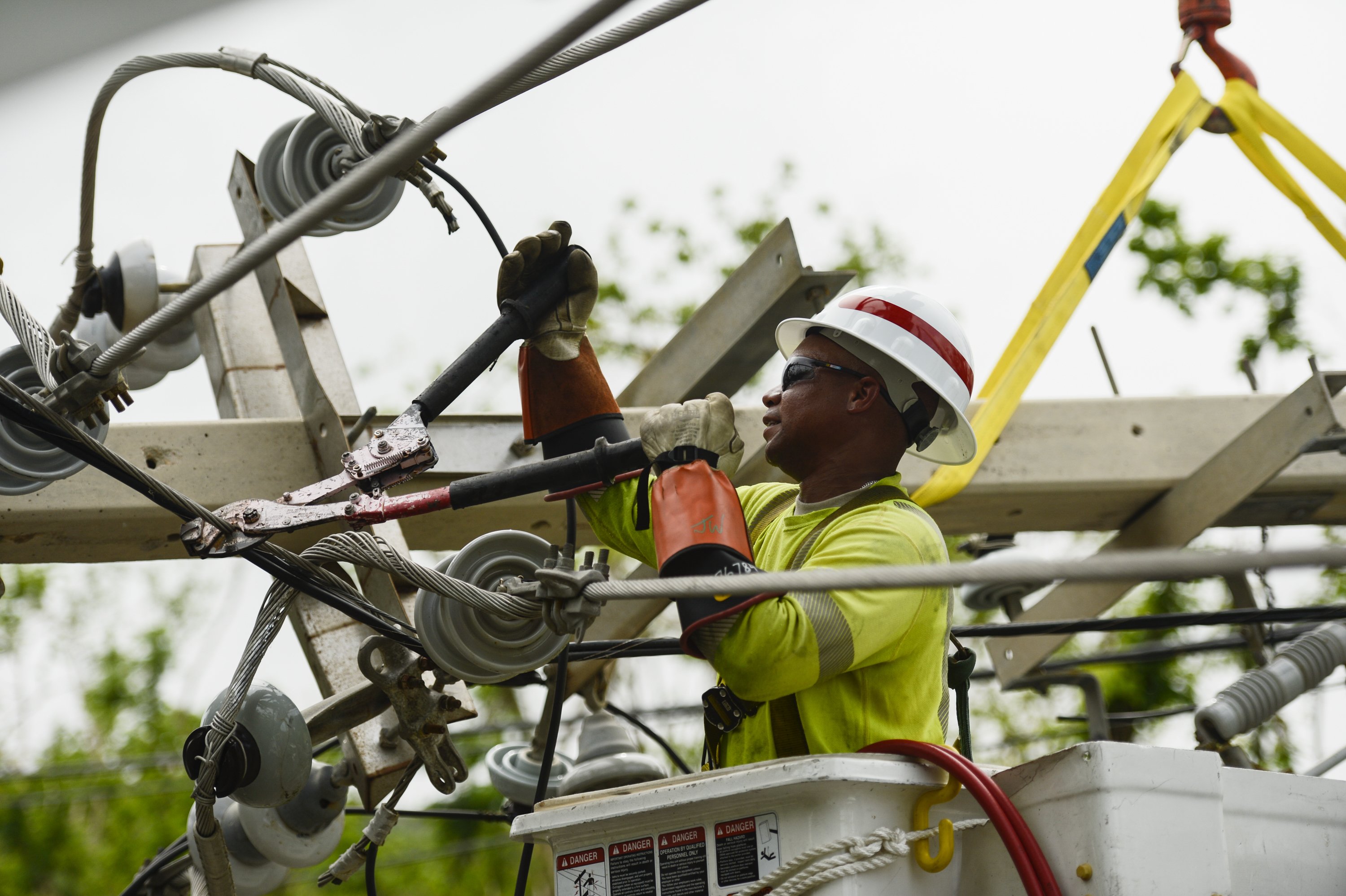 I HAVE EXISTING SYSTEMS BUT THEY DON'T WORK TOGETHER
And that's where the problem lies. When your systems can't extend information easily or capture external information
easily and don't effectively work together, the result is a manual process that is inefficient, ineffective and costly.
For utility companies that need to quickly respond to outages, maintenance and repair jobs, ARCOS Mobile Workbench is a flexible work order software solution that makes your existing legacy systems do more and your daily or emergency work far more efficient.
USE ARCOS MOBILE WORKBENCH WITH EXISTING SYSTEMS
Utilities use ARCOS Mobile Workbench to:
Extend the life of aging GIS systems
Extend mobile capabilities to the field with integration in and out of Outage, Work Management or EAMS systems
Provide historical information such as previous work, customer data, asset and other information from several
systems to crews in the field so they can work more efficiently
Utilize real-time information and visibility to compress the amount of time it takes to assign, distribute and manage
work that is conducted in the field.
EXTEND THE CAPABILITIES OF YOUR OUTAGE, WORK MANAGEMENT OR EAMS SYSTEMS
Working together with your systems, ARCOS Mobile Workbench work order software is designed to help companies get more daily and unplanned work done efficiently by combining the ability to manage both people and work with complete visibility, improving work completion and reducing operations & maintenance costs.
Unlike other work management solutions, ARCOS Mobile Workbench doesn't replace your existing systems. It works
alongside them to maximize wrench time, reduce restoration time and improve safety.
Getting Work Done = Managing People and Work in one system
Mobile GIS in 14 days
Ditch the paper. It's not efficient. Paper can't give you real-time access to work. Paper creates interpretation issues, which can turn into unnecessary rework. ARCOS Mobile Workbench work order software connects to your existing GIS system to empower your field service, restoration, and maintenance crews with accurate, mobile GIS maps of assets from any mobile device. In 14 days, you can improve safety, accuracy, speed and efficiency of work completed in the field.
Make your data go further
Create jobs right in ARCOS Workbench, or pull them in from other sources such as work management systems and outage systems. ARCOS Mobile Workbench pulls and pushes data from systems and back from the field in near real-time, ensuring that everyone has an accurate picture of work and work orders, it's status, inspection history, asset information and more. Any data from the field, including pictures, video and bar code information, can be pushed into your existing work and maintenance management software systems to keep everything instantly updated. Eliminating tedious manual updates will save time and improve your ability to get work done faster. This enterprise work management system is integrated fully with the way you already work.
Improve Visibility and Decision Making
Whether you're in the field or handling field service management from behind a desk, ARCOS Mobile Workbench provides you with real-time visibility of your network status, field reports and crew positions as it's happening, filtered however you want to see it. Display jobs, job types, job status graphically on map and filter views based on operating company, job types, work orders, completions, open jobs – any data you capture, you can filter. Any information captured by a mobile device in the field is stored and sent back to supervisors in real-time. Loss of internet or cell service won't prevent field crews from doing their job. They can capture any/all information offline, and the system will automatically upload captured data once they're back online or with cell service. ARCOS Mobile Workbench is not only a simple work order management system but a maintenance management solution.
Your Choice, Your Icons, Your Way
Simple, easy-to-use, configurable workflows for mobile devices enable you to tackle any inspection, service or repair job. ARCOS Mobile Workbench is configured by you to be your work order management system, work request management system, and mobile work management system.  You choose how you want job data to appear on a map, which colors to use or icons.  Configure job processes like inspections, damage assessments or repairs by type for the way you process jobs. Work is managed and logged as completed. 
Powerful visibility options enable you to choose who gets access and to what information inside or outside your organization, such as contractors, police, fire and assisting agencies – even customers.  Display that information via a URL or post it to your website – the choice is yours.  Collect the data you need.  
Flexible and Powerful. The Power You Need To Impact Real Change – Real Fast
ARCOS Mobile Workbench customers are using our completely secure, web-based work order software system to:
Assign, 

d

istribute and 

e

xecute 

d

amage 

a

ssessments

as well as automate the creation of work orders and repair tickets

 

Assign, distribute and execute inspections of

a

ll network assets from transmission to customer meters 

and automate the creation of needed or future work tickets.

Assign powerful workflows, conditions and rules to ensure the right 

next steps and 

processes 

are efficient and accurate

 

Create job tickets or work orders

 and assign to available crews or employees

 

Capture historical details of all work created, assigned, performed including start/end times, for bench-marking and required reporting

 

Make efficient decisions on assignment of work management with visibility to the remaining time on an employee's shift and/or how far away from the job site they are

 

Easily deploy aerial inspections while collecting inspection or damage data on a mobile device 

 

Make accurate, rules

–

based design changes in the field directly from a mobile device with real-time information available to management teams or other departments

 

No-touch automatic creation of municipal or state permitting applications triggered on design changes

 

Automate the creation of rule-based quotes for 

new service connection requests

complete with financing options, or visibility to costs associated with capital vs operating expenses. 

Self service capabilities for customers to receive and accept quotes for service from your website 

Management of special field-based projects such as 

street light

replacement projects, asset replacement programs

Historical capture and visibility to previous repairs, leaks, and other events to prioritize and pinpoint where replacement 

work

 

focus should be

 placed

 

Execute cross billing processes when repairing third-party owned assets or to notify

 other owners or departments

 when

 asset repairs are needed

 

Capture a bill of materials or equipment needed

at an assessment and push that information to a warehouse for picking so that repair crews have what's needed to efficiently complete repair work.

 

Isolation or switch orders for electric, gas and water utilities that need 

quick access to valve or switch locations and the order in which they need to be turned on or off to safely complete repairs or bring up service

 
BENEFITS OF AN ELECTRONIC WORK ORDER SOFTWARE SYSTEM
WORK ORDER DASHBOARDING & REPORTING With work order software, you can view work orders on one convenient dashboard with real-time reporting, but that's not all. You can also capture historical details of all work created, assigned, or performed, including start/end times, for benchmarking and required reporting.
MANAGING PEOPLE, WORK, AND CONTRACTORS IN ONE PLACE
Your people may be in one system, and their work and the equipment needed are in another. When you mix in external crews, tracking who is working on what, and where, becomes more difficult. Manage internal and external crews together within one system, while capturing the data you need for reporting and storm recovery costs.
WORK REQUESTS FOR PREVENTIVE & PREDICTIVE MAINTENANCE
Preventive and predictive maintenance are vital to keeping your equipment and facilities in peak condition. Keep track of upcoming scheduled preventive maintenance and automate the creation of predictive maintenance tasks with our advanced work order software solutions.
WORK ORDERS SOFTWARE TRAINING & SUPPORT
ARCOS Mobile Workbench includes software training and five-star support to ensure you get more out of your work order software. After your initial set-up and on-site testing, we offer employee training and provide you all the tools you need to update your entire maintenance team.
MOBILE WORK ORDER REQUESTS
The ARCOS Mobile work order software includes a mobile app as well as support for desktop mobile access with cloud-based storage. That way, you can manage maintenance requests from wherever you are and won't have to worry about transferring files or updating databases. The software handles everything for you.
MAINTENANCE AS A BUSINESS DRIVER
Data-driven plans generated by sophisticated maintenance management software can keep your equipment and facilities running reliably—a point that matters to any business, but especially utility companies. Customers rely on you for energy. Get the technology you need to improve response and customer satisfaction.
BENEFITS OF AUTOMATED WORK ORDER MANAGEMENT
What is a work order management system? and how can ARCOS Mobile Workbench help?
A work order management system creates a centralized, user-friendly dashboard for all work-order-related information, such as service requests, their current status, costs, scheduling, and budgetary data. The best work order software solutions also offer key features for other administrative tasks, such as planning preventative maintenance or handling asset management.
What is the purpose of a work order system?
The primary purpose of work order software is to make sure work orders are completed in the most efficient manner possible, but their uses go far beyond that into scheduling, performance tracking, team communication, budgeting, asset management, reporting, and much more.
How can ARCOS Mobile Workbench help with our work order process?
Your work order process is all the steps your organization takes to complete maintenance and repair requests. That typically starts with initiating the work order and ends with a performance review. The problem is, many utilities use multiple systems or paper packets and clipboards to get this done. This takes more administrative time, can result in multiple trips to the job site, or important details getting lost in the shuffle. Once your internal and external crews get on the work, you're able to log time-stamped data and pictures, creating one source of truth for the entire job.
How can ARCOS Mobile Workbench help you do you keep up with work orders?
Work order management software like ARCOS Mobile Workbench is the best way to assign and track your work orders. From the moment the work order enters the system—either by manual entry or via another automated system—you'll be able to monitor its progress, quickly see who is working on the order, and address any snags along the way. Even better, when you choose the ARCOS Mobile Workbench, you can do all the above from the office, home, or on the road via the mobile app! It's the best work order software for utility companies of all sizes.